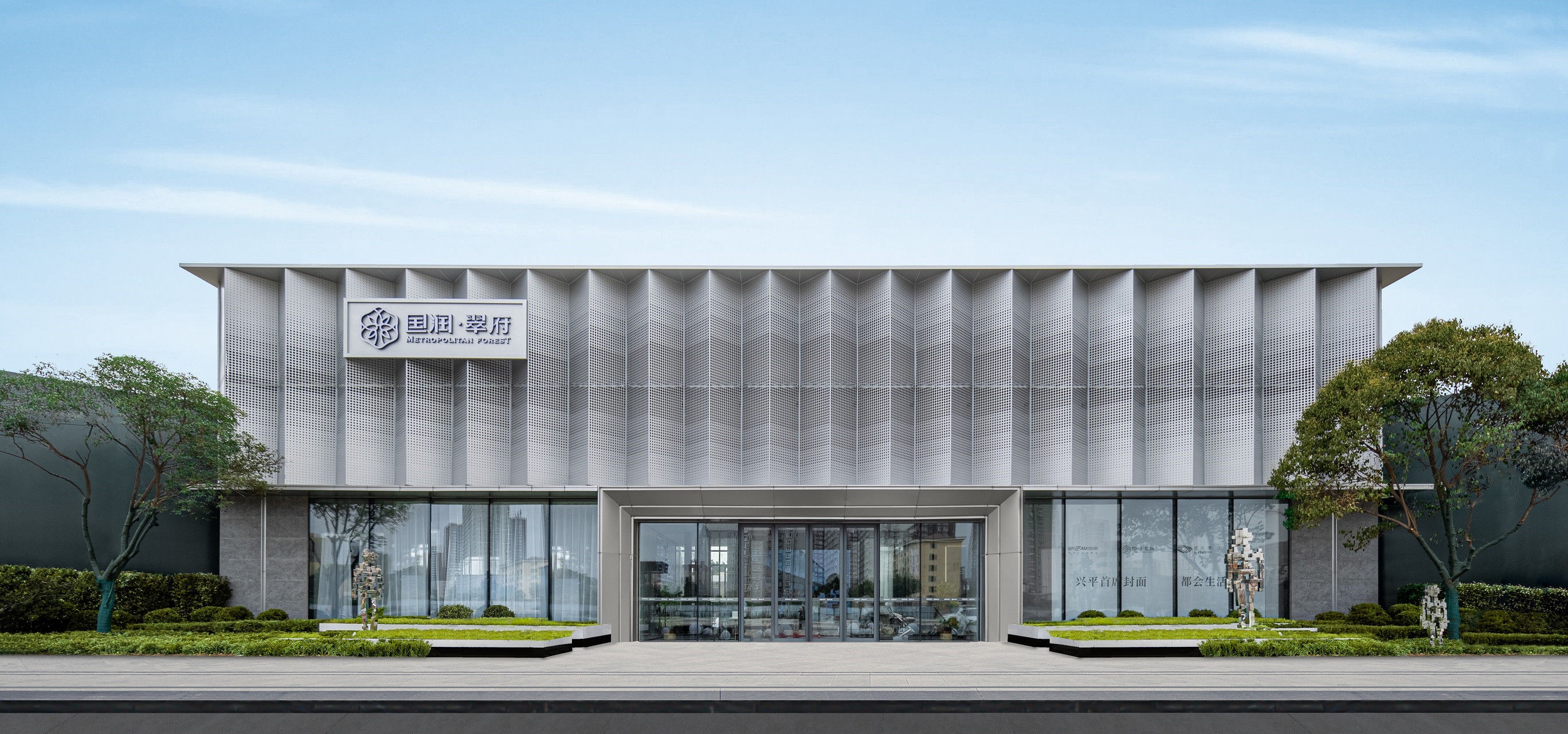 项目位于陕西省咸阳市兴平市中心大街与金城路交叉口,新城区与老城区交界处,位于咸兴一体化发展战略中城市发展带上。
The project is located at the intersection of Xingping City Center Street and Jincheng Road in Xianyang City, Shaanxi Province, at the junction of the new city and the old city, on the urban development belt in the integrated development strategy of Xianxing.
现代城市中,人们从未停止对未来生活的想象与期待。现代进程分割了自然环境,商业繁华打破了舒适氛围。人们极力寻找心目中的栖居之所,设计团队将"传统与与现代"的思想融入设计里,以现代的手法传承传统的人文思想,展现出理想中的乌托邦。
In the modern city, people never stop imagining and expecting the future life. The modern process has divided the natural environment, and the commercial bustle has broken the comfortable atmosphere. People are desperately searching for their desired habitat. The design team integrates the idea of "tradition and modernity" into the design, and inherits the traditional humanistic thought with modern techniques to show the ideal utopia.
平面图▼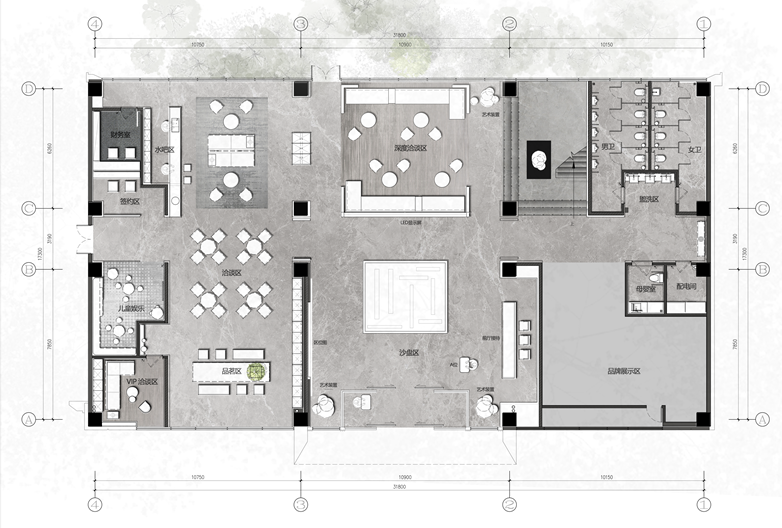 步入大厅,整体呈现灰色基调与接待台细腻的灰色肌理平衡呼应,黑色饰条的点缀,无形之中将空间划分成不同的功能区,给人错落有致,空阔透天的舒适感受。
Stepping into the hall, the overall gray tone echoes the delicate gray texture of the reception desk, and the black accents invisibly divide the space into different functional areas, giving people a comfortable feeling of staggered, open and transparent sky.
我们用当代、简洁的设计手法融合都市生活理念为其注入一份艺术与静雅探寻一种当代人文的惬意生活。
We use a contemporary, simple design approach to integrate the concept of urban living to inject a sense of art and quiet elegance to explore a comfortable life of contemporary humanities.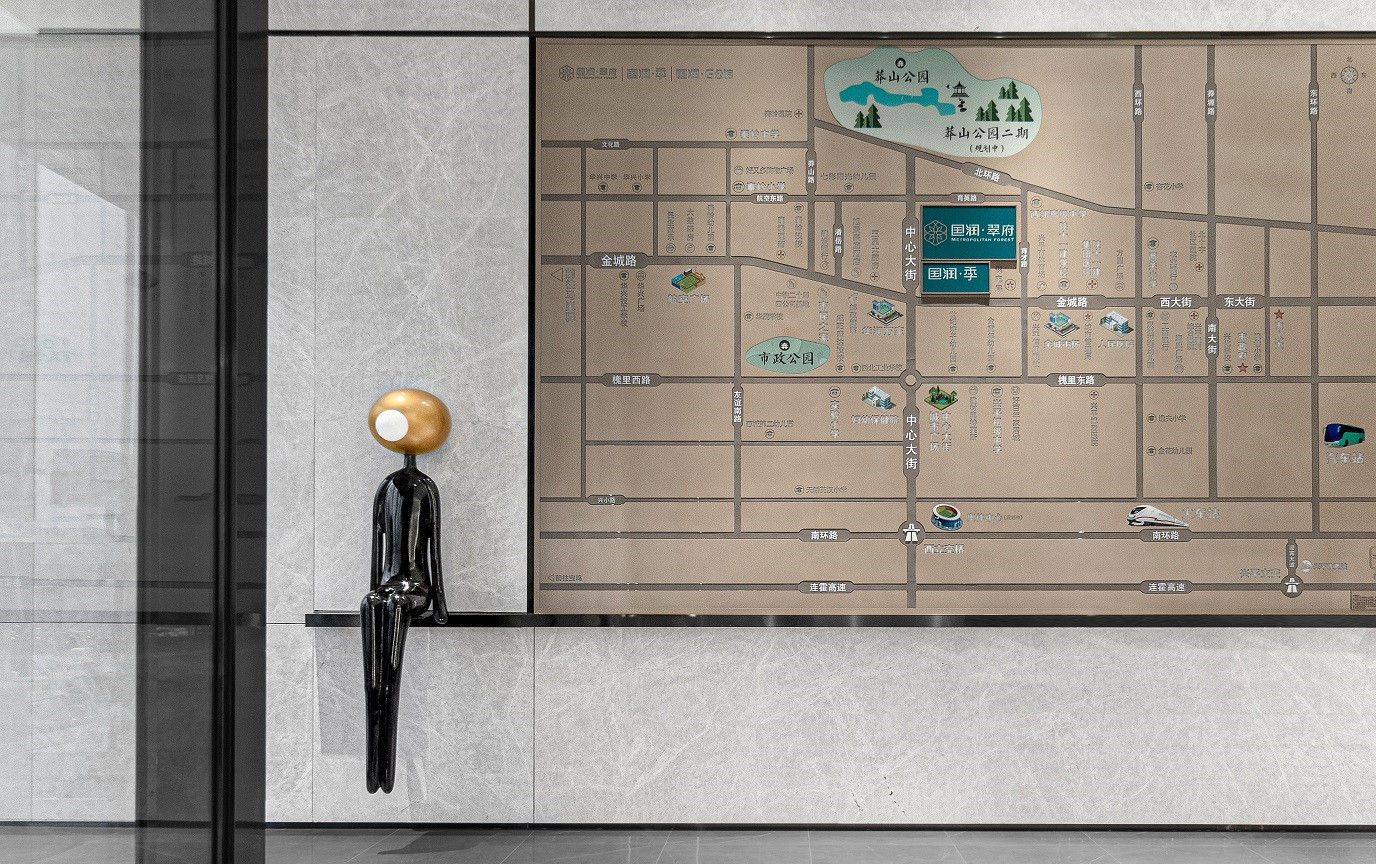 本次项目有了更大的区域用作洽谈区,我们将它独立成了两部分空间。小的沙发洽谈区与周围环境形成一个了半隔离的状态,若即若离,若隐若现。环境更加私密。
This project has a larger area for the negotiation area, and we have separated it into two parts. The small sofa negotiation area forms a semi-isolated state with the surrounding environment, as if it were separate and hidden. The environment is more private.
更大的洽谈空间则与书吧水吧融为一体,让客户能够有更加舒适宽敞的洽谈区域。开放与私密在这一刻得到了统一。
The larger negotiation space is integrated with the book bar and water bar, so that customers can have a more comfortable and spacious area for negotiation. Openness and privacy are unified in this moment.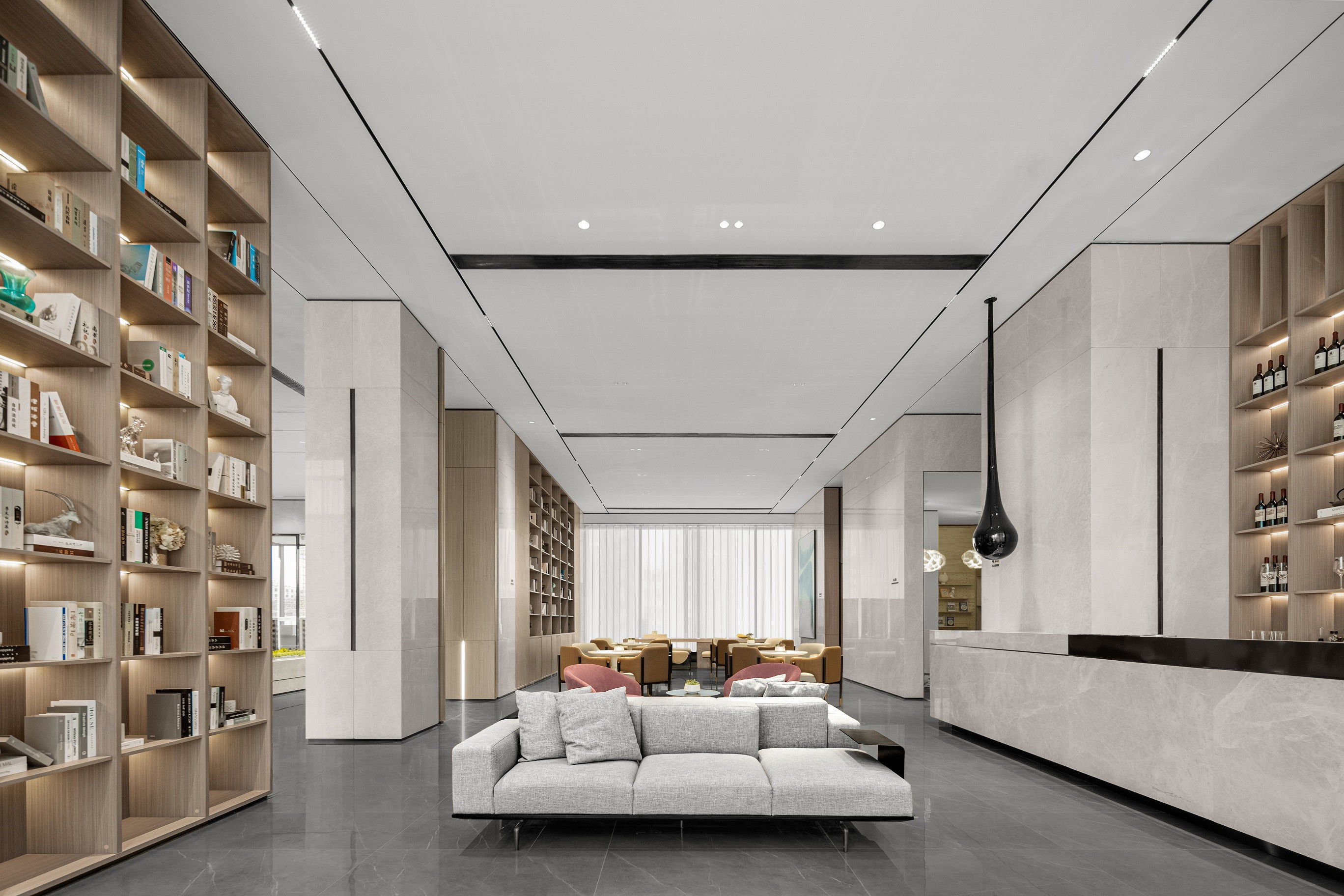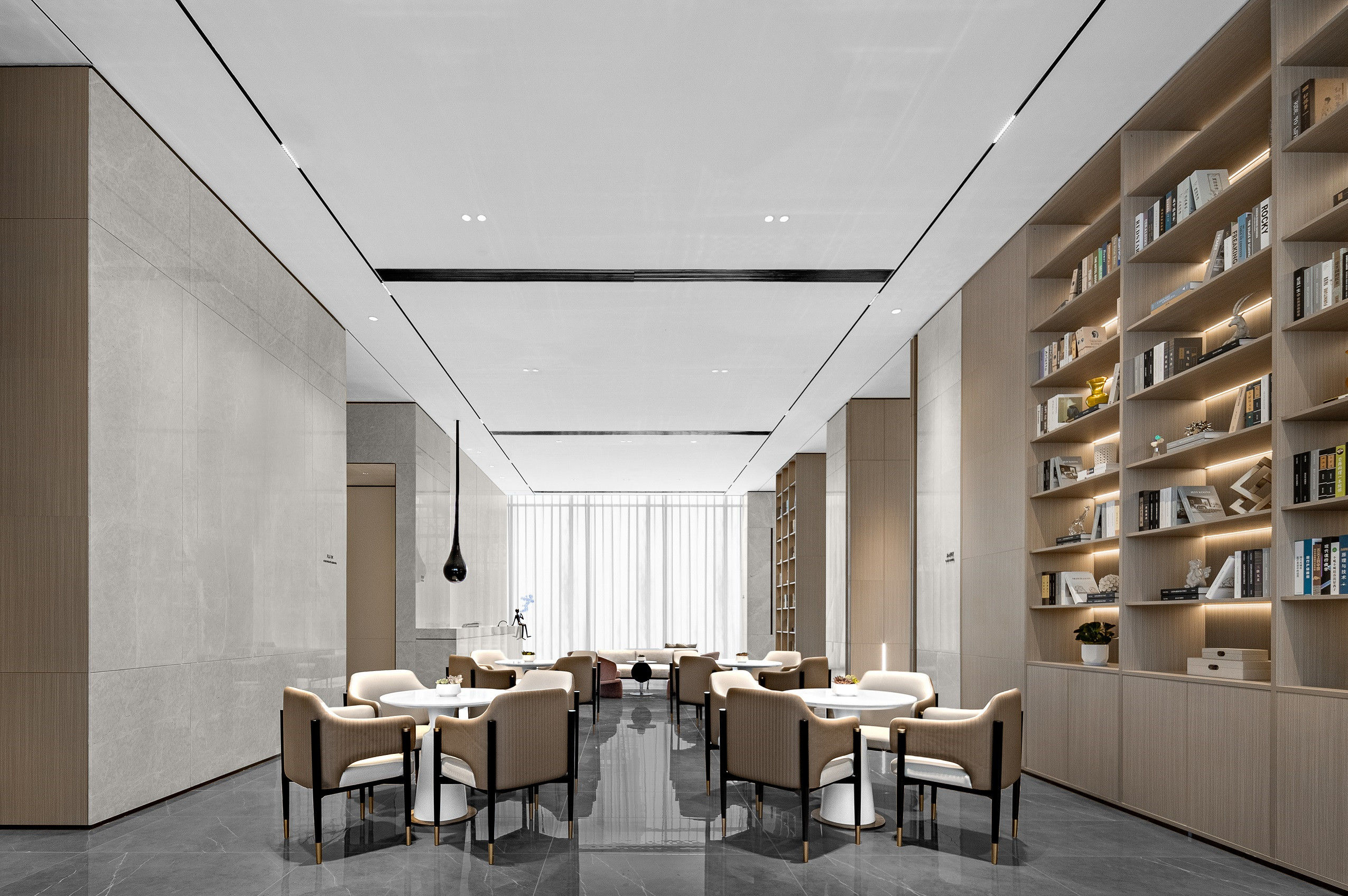 水滴状的艺术装置给整个空间增添了一丝灵动,同时与水花状透明装置形成联动,将空间进一步的联系在一起。动静结合,清灵的的气质,简约大气的造型,最大限度提升其艺术表现张力,将空间中的立体感与力量感完美展示。
The teardrop-shaped art installation adds a touch of spirituality to the whole space, while forming a linkage with the splash-shaped transparent device to further connect the space together. The combination of movement and stillness, the clear and spiritual temperament, and the simple and atmospheric shape maximize the tension of its artistic expression, and perfectly display the sense of three-dimensionality and power in the space.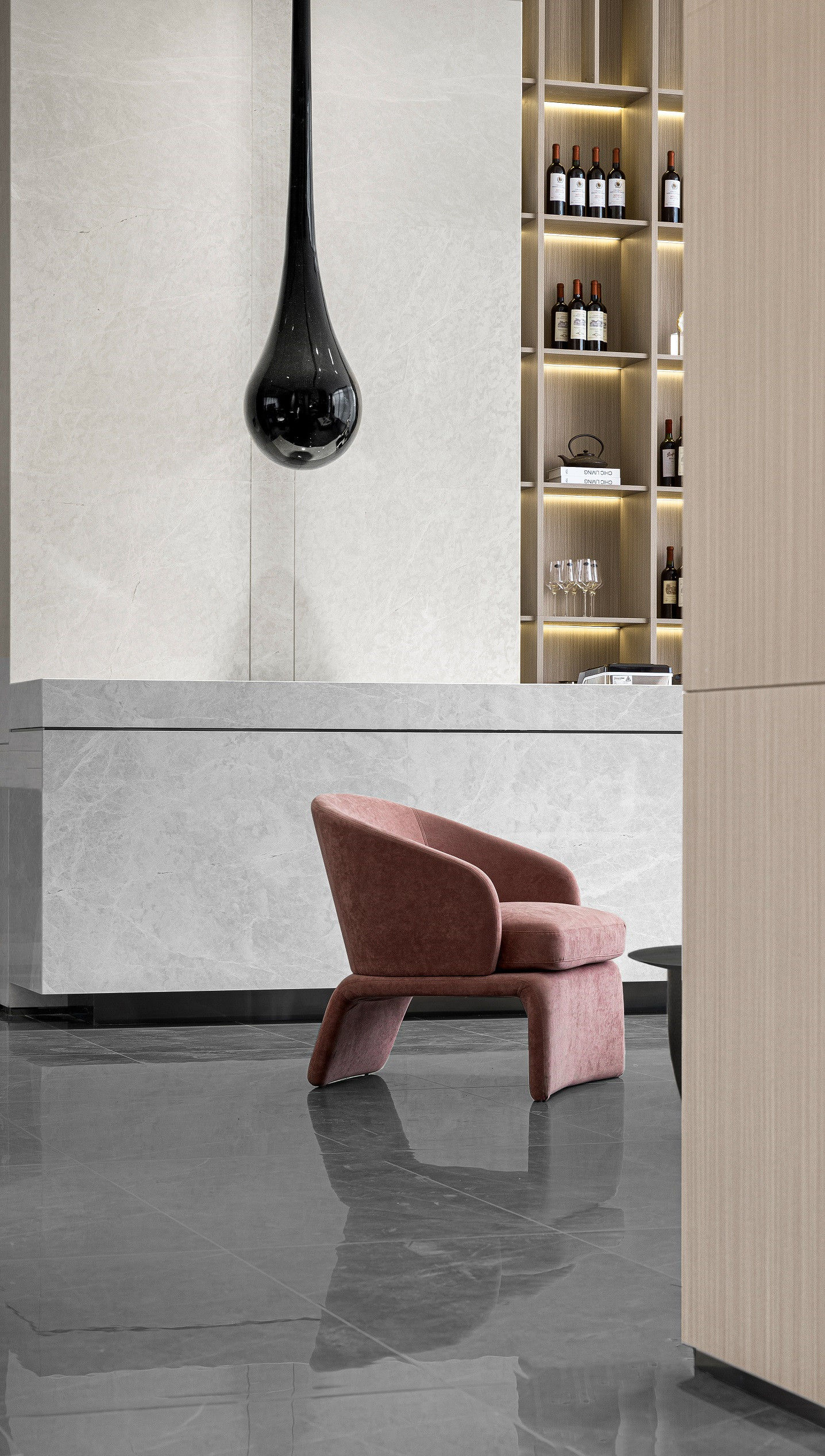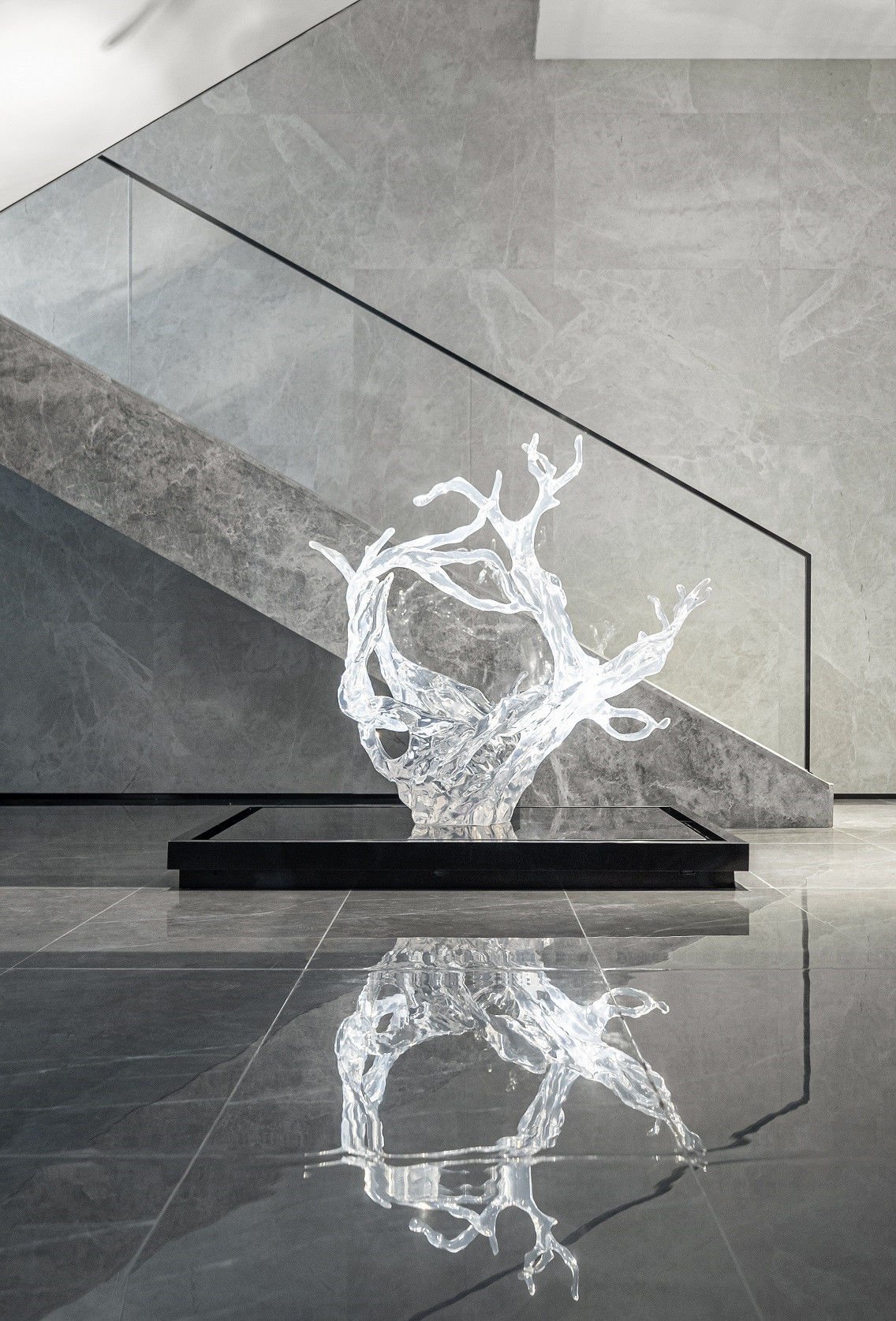 在现代,售楼处应满足参观者的不同需求,力求打破空间的单一属性,强调空间多元化。因此在本案中我们营造了一个有童趣,能给人们带来更多来自艺术方面的欢乐以及空间氛围 。
In modern times, the sales office should meet the different needs of visitors, and strive to break the single attribute of space and emphasize the diversity of space. Therefore, in this case we have created a space with childish interest, which can bring people more joy from the art aspect and space atmosphere.