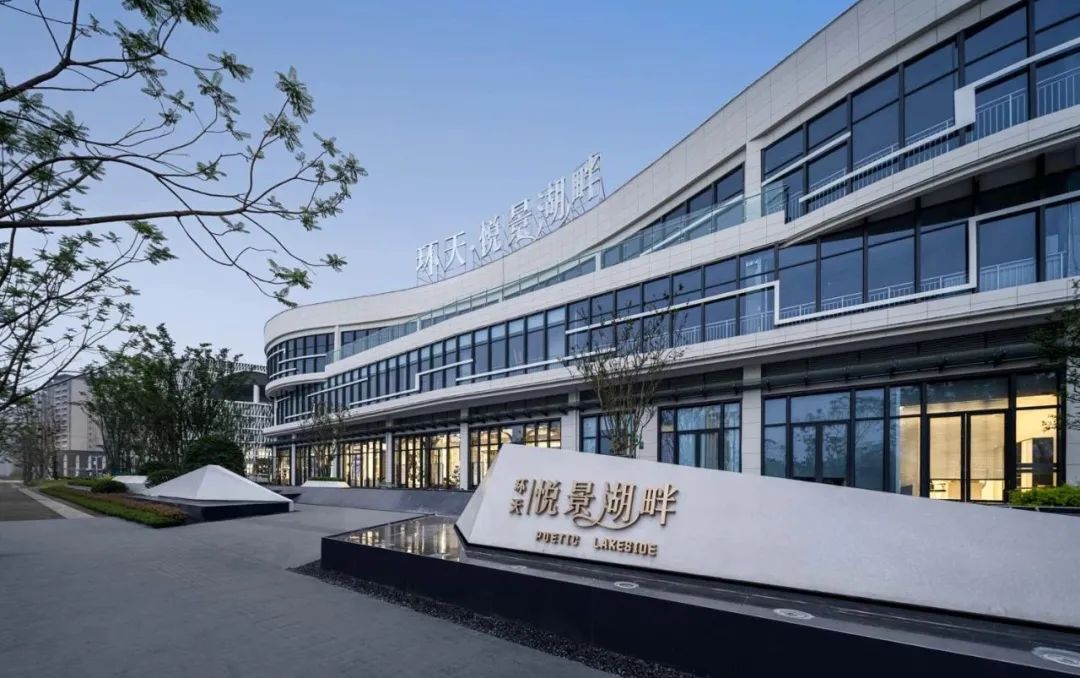 从原始社会的田耕火种,到现代社会的机械轰鸣科技的高速发展。时间与空间匮乏,情感与健康缺失,这些"都市病"在世界各地普遍存在。我们希望通过人文的魅力,对地域文化底蕴的认知来传达项目对该地区城市未来状态的展望。
From the primitive society of farming, to the modern society of the rapid development of machinery roaring technology. Lack of time and space, lack of emotion and health, these "urban diseases" are common all over the world. We hope to convey the project's vision of the future state of the region's cities through the charm of humanities and the recognition of the cultural heritage of the region.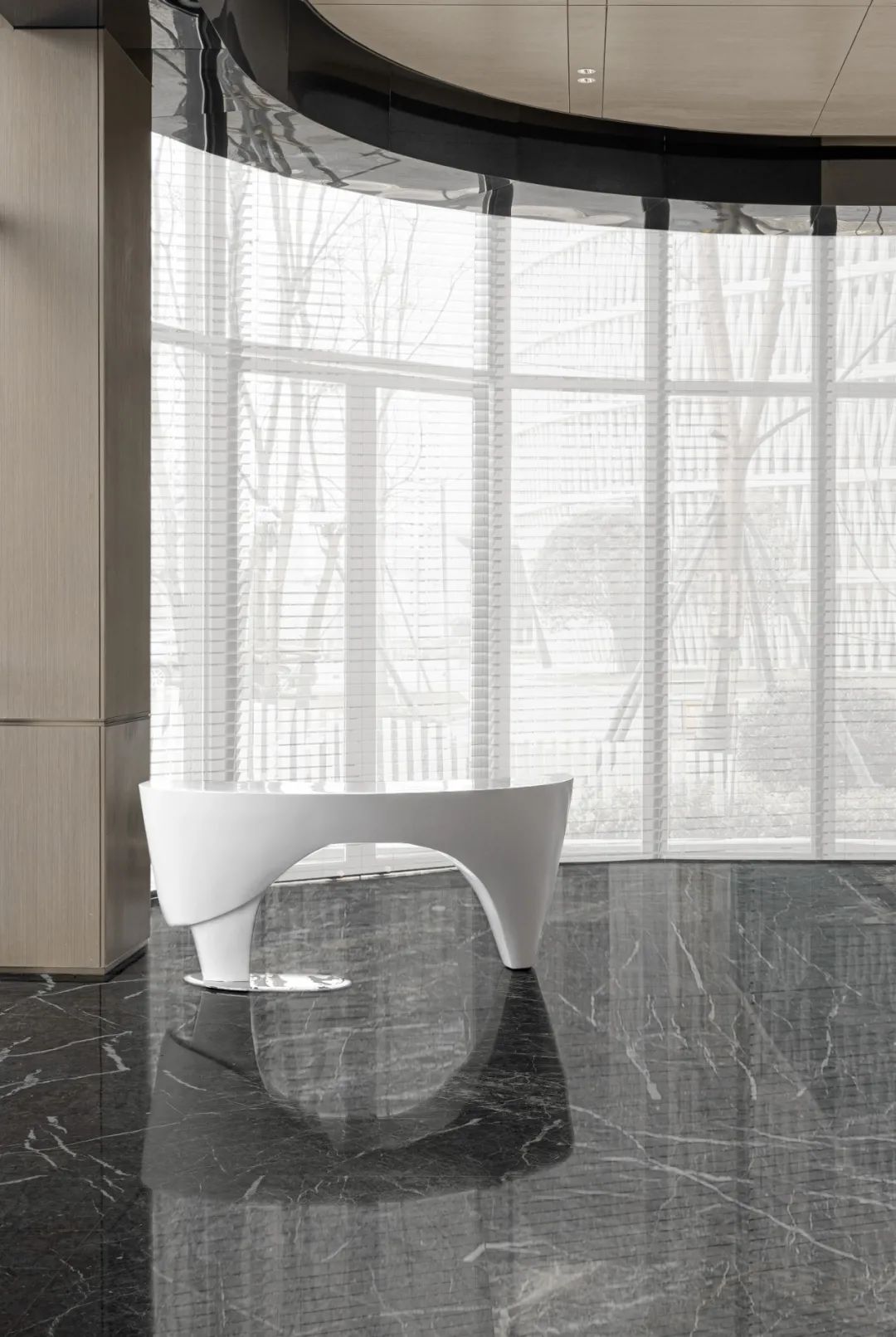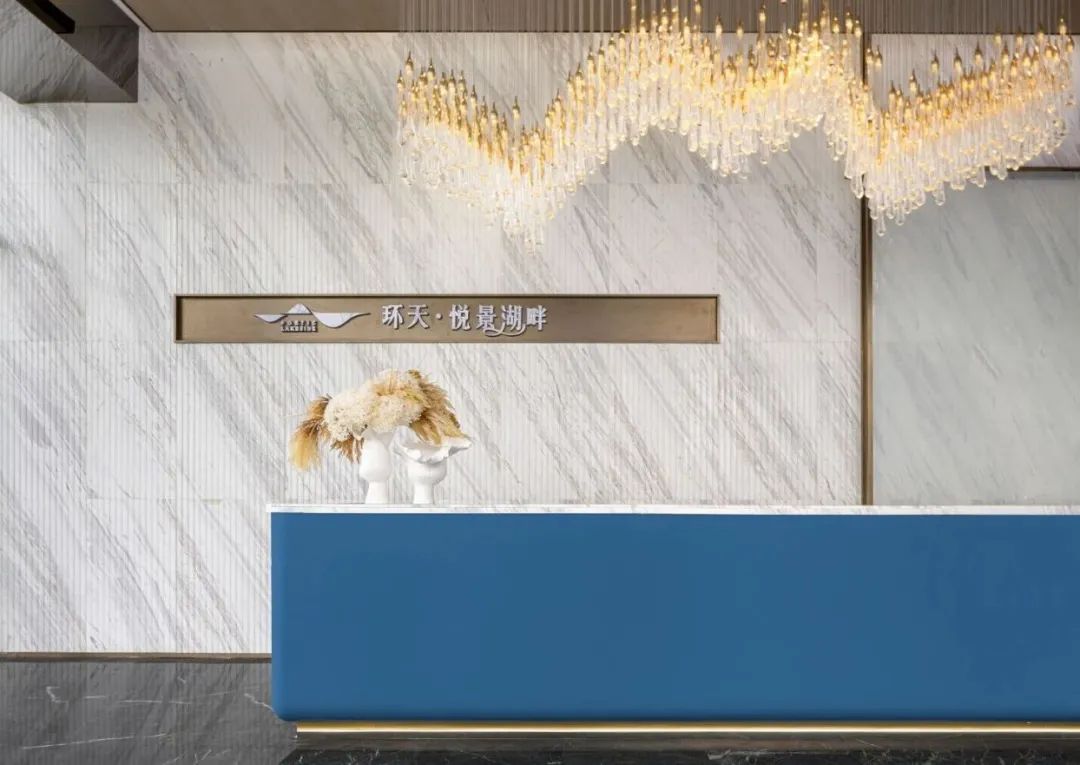 使用简约线条作为设计的基本元素,并通过充满灵魂的艺术装置,灯光,其他空间材料,描绘出了美好的未来城市生活。咖色主调的包容消弭了心理上的陌生感,隐喻着城市变迁和无限发展的未来。现代时尚的新世纪面孔融合历史的浓墨底蕴,碰撞出新老交融的空间体验感受。
Using minimalist lines as the basic elements of the design, and through soulful art installations, lighting, and other spatial materials, it depicts a beautiful future city life. The inclusion of curry main tone dissolves the psychological strangeness and metaphorically reflects the future of urban change and infinite development. The modern and fashionable face of the new century fuses with the rich ink heritage of history, colliding with the old and new to create a spatial experience.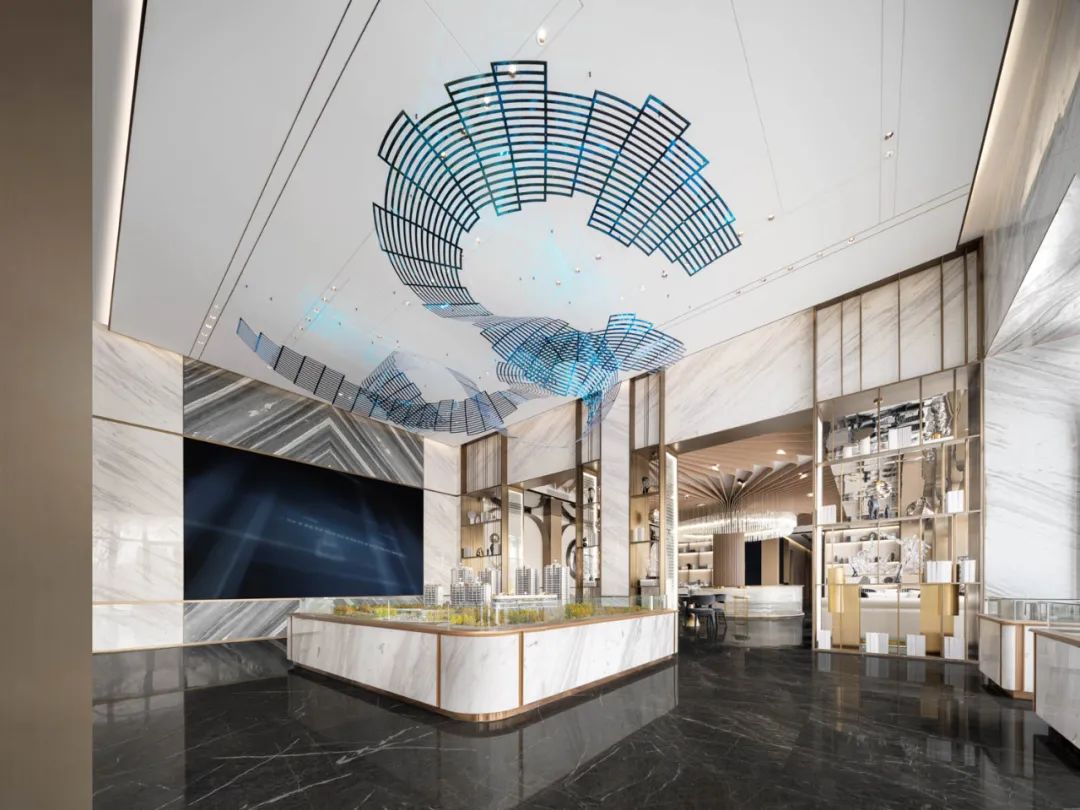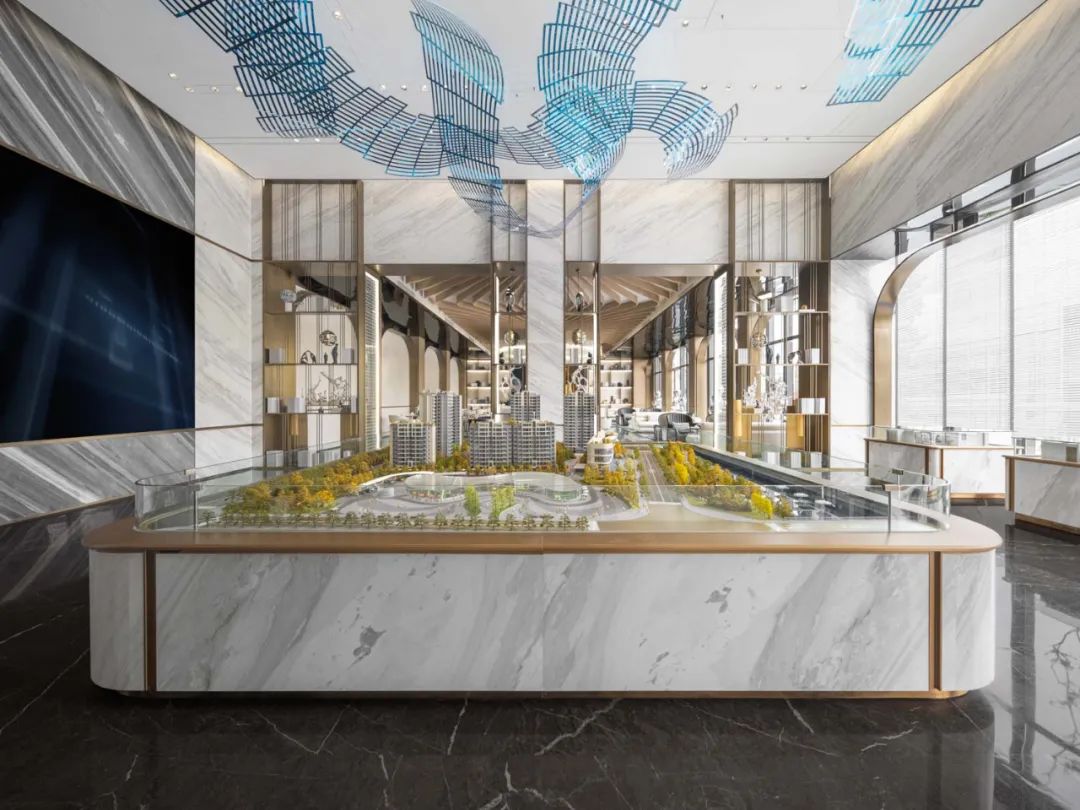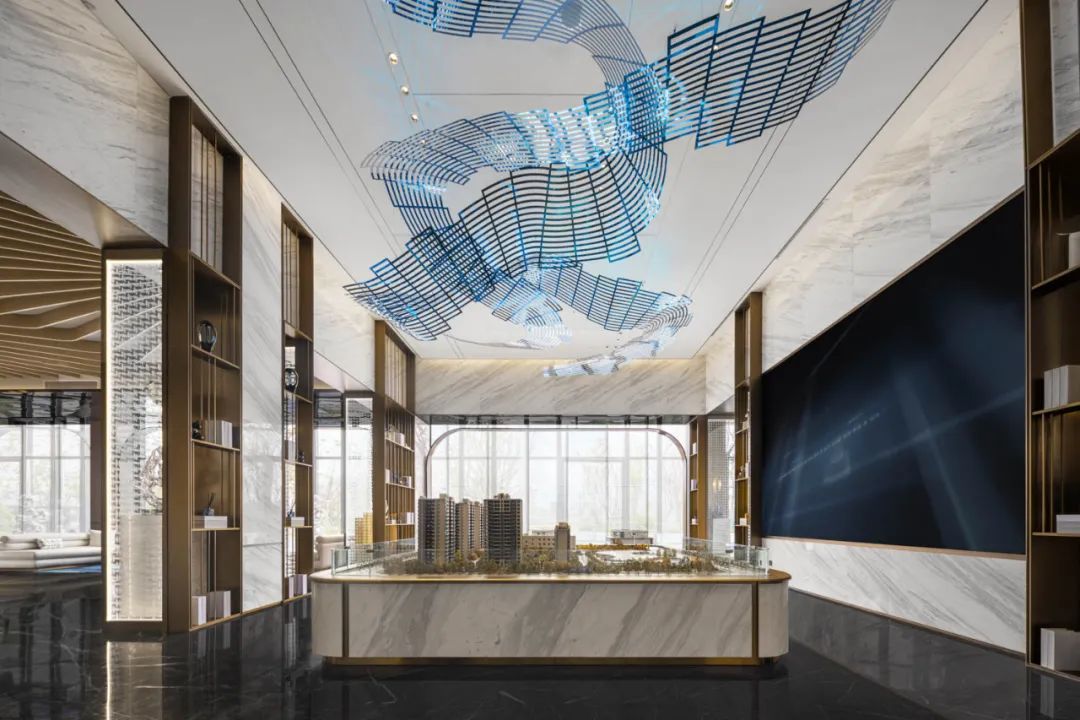 远、近、动、静的相互交融,加上整体墙面用到雅士白大理石、古铜金属材质及定制墙布,表达整体空间的品质与城市变迁发展的主题。顶面木饰面及木格栅的运用,延伸了整个空间的通透感。
The interplay of distance, proximity, movement and stillness, together with the use of Yash white marble, bronze metal and custom wall coverings on the overall walls, express the quality of the overall space and the theme of urban change and development. The use of wood finishes and wood grilles on the top surface extends the permeability of the entire space.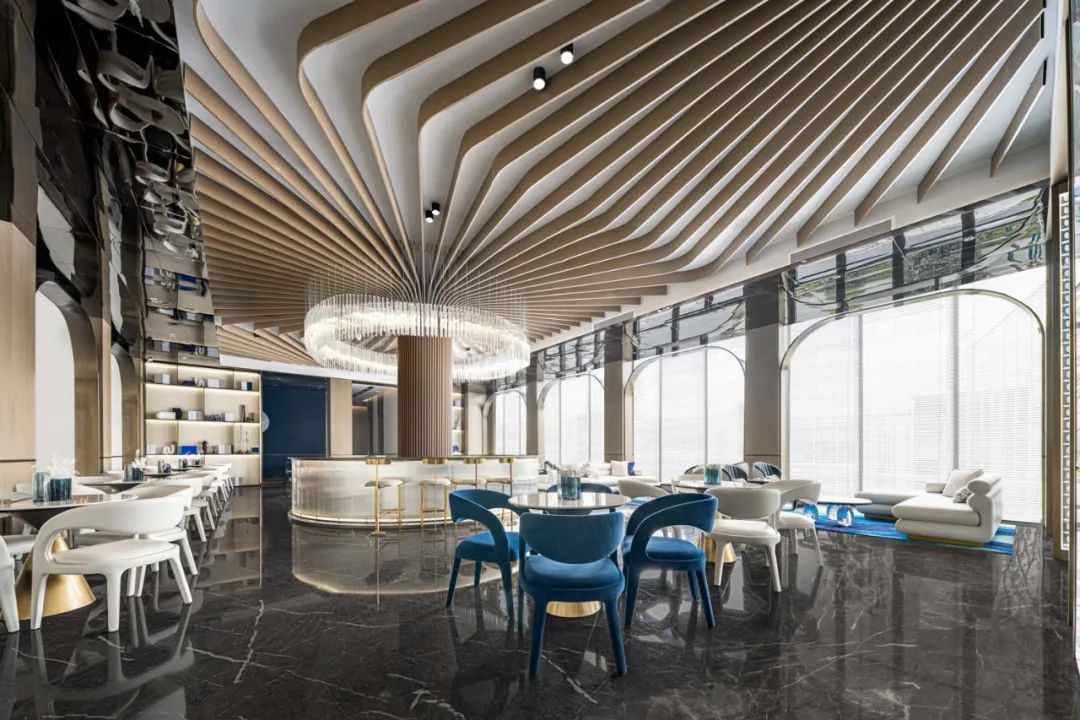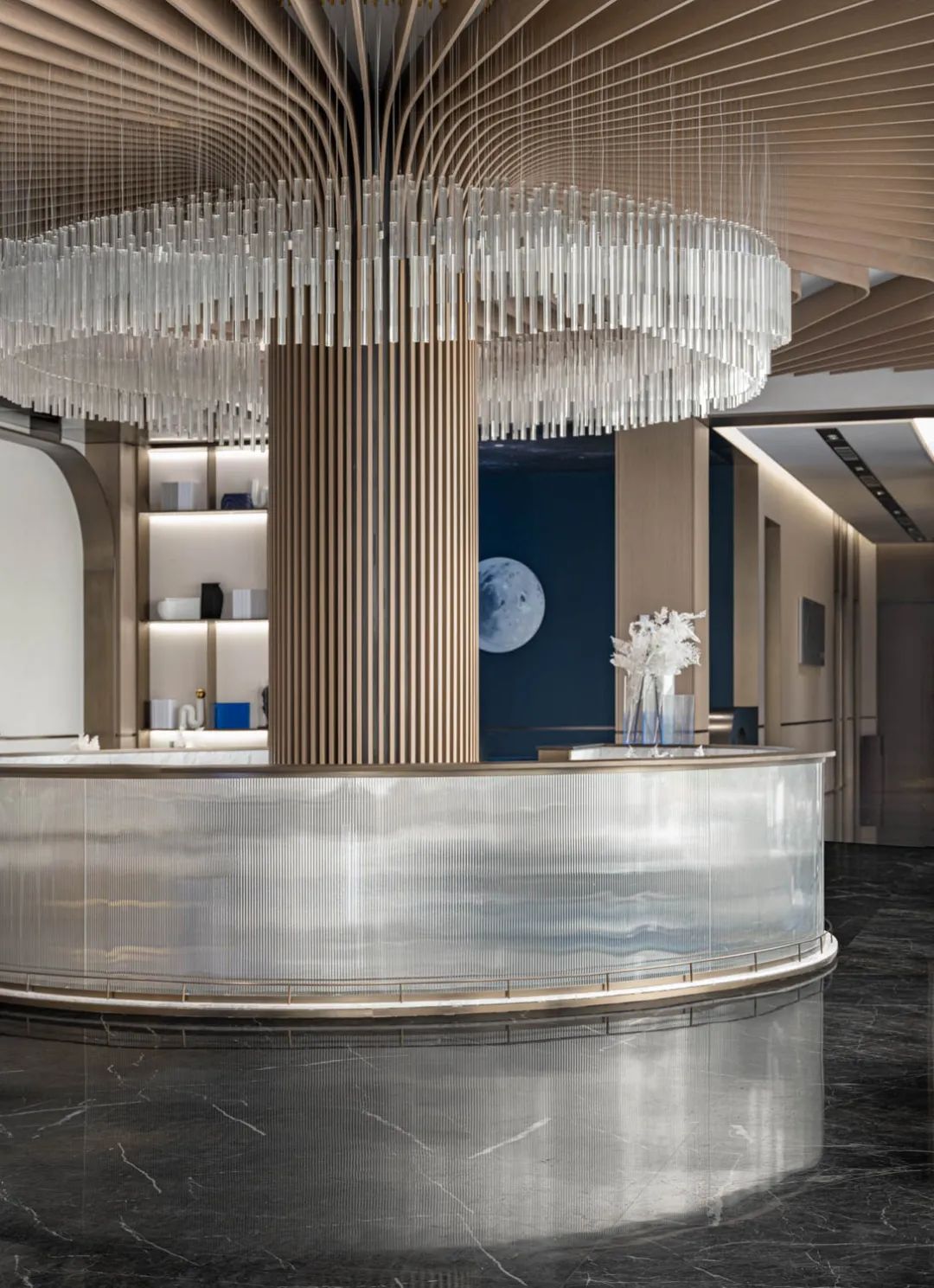 洽谈区顶部空间镜面不锈钢材质的使用,通过光的反射将更多的观景面纳入室内,模糊建筑的边界,制造出更加明亮宽敞舒适的交流空间,重新定义美好生活的公园城市。
The use of mirrored stainless steel in the top space of the negotiation area incorporates more viewing surfaces into the interior through the reflection of light, blurring the boundaries of the building, creating a brighter, more spacious and comfortable communication space, and redefining the park city of good living.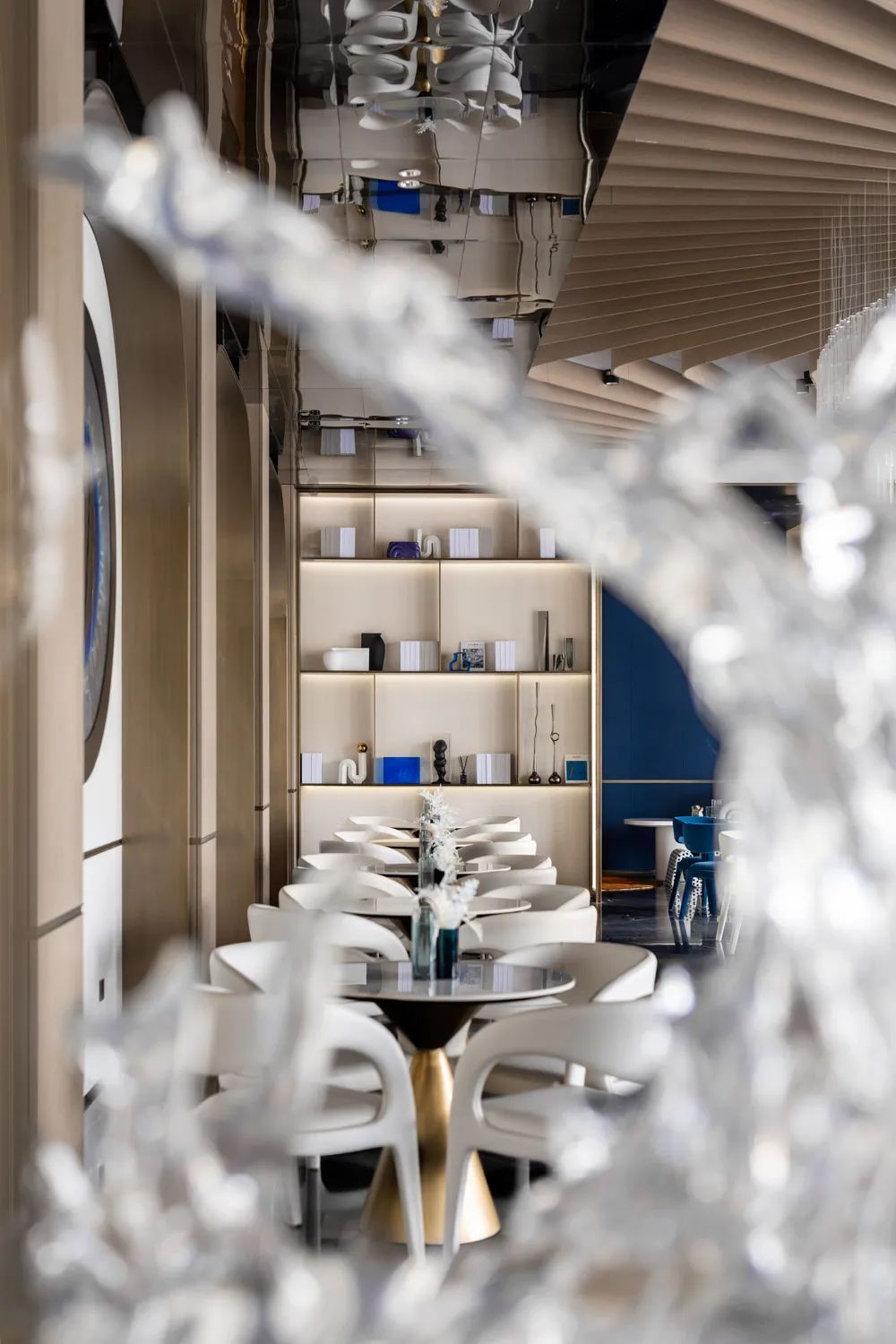 本次项目为儿童玩耍单独划分了区域,以增加客户的参观体验。儿童区以蓝色星球为主题,突出了公园城市的未来以及保护生态环境的理念。
The project has a separate area for children to play in order to increase the visiting experience of customers. The theme of the children's area is the blue planet, highlighting the future of the park city and the concept of protecting the ecological environment.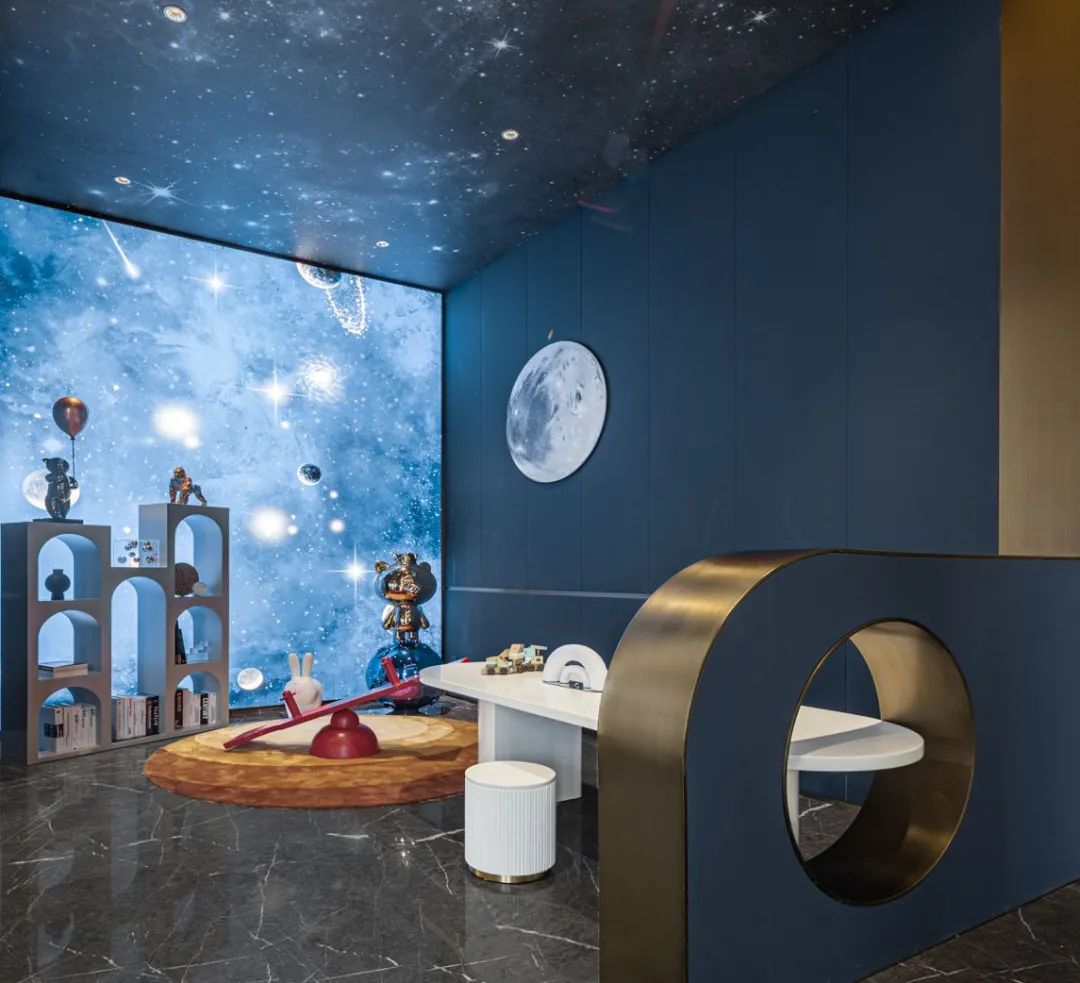 简练的VIP洽谈空间中放置造型各异的装置家居,整个空间无形又增添了一抹神秘的色彩,丰富了视觉层次,细腻材质结合光影的变化,提升整个空间的品质,使得洽谈更加身心愉悦。
The simple VIP negotiation space is placed in different shapes of the device home, the whole space invisible and add a touch of mysterious color, rich visual level, delicate materials combined with changes in light and shadow, enhance the quality of the whole space, making the negotiation more pleasant physically and mentally.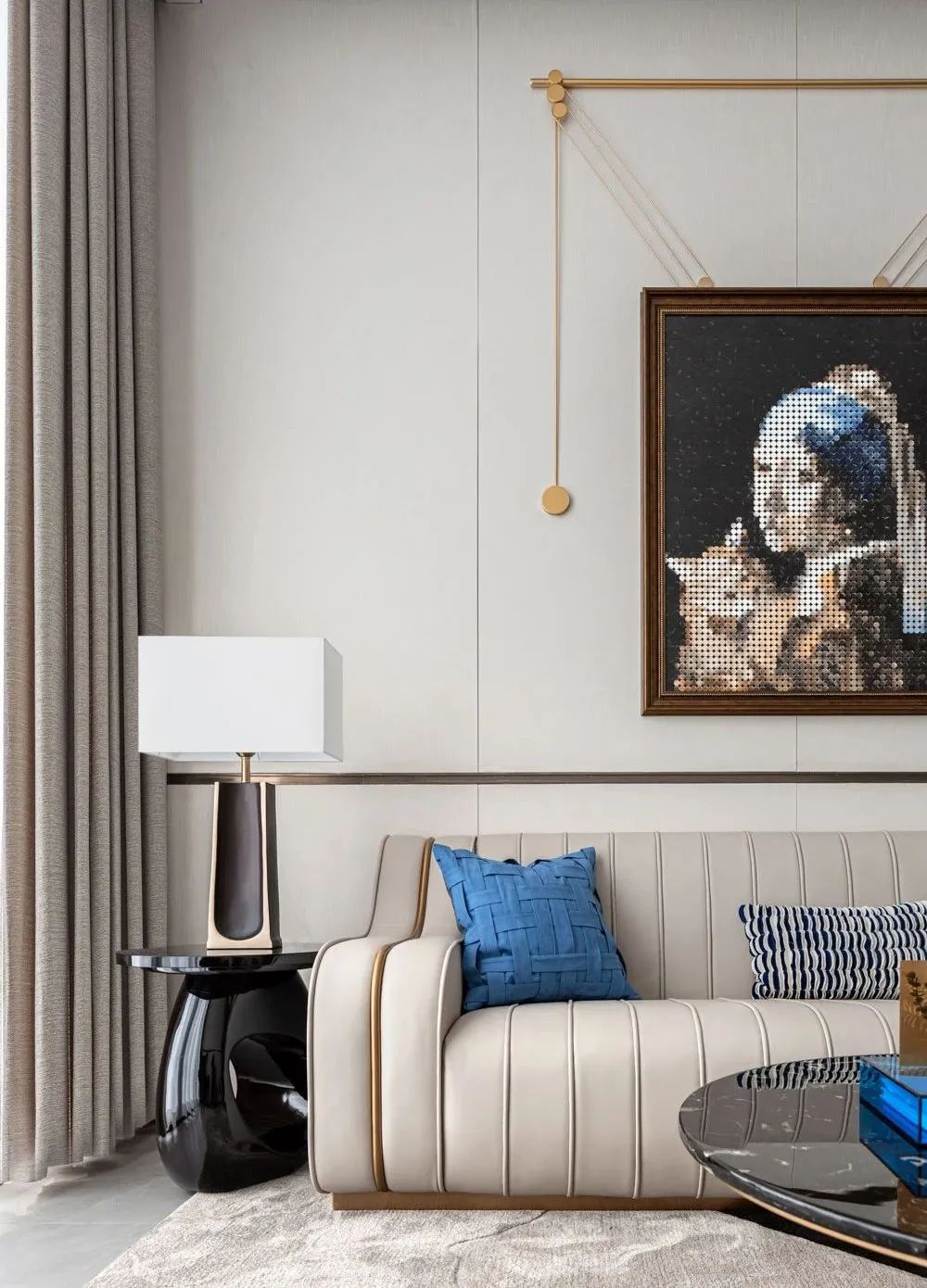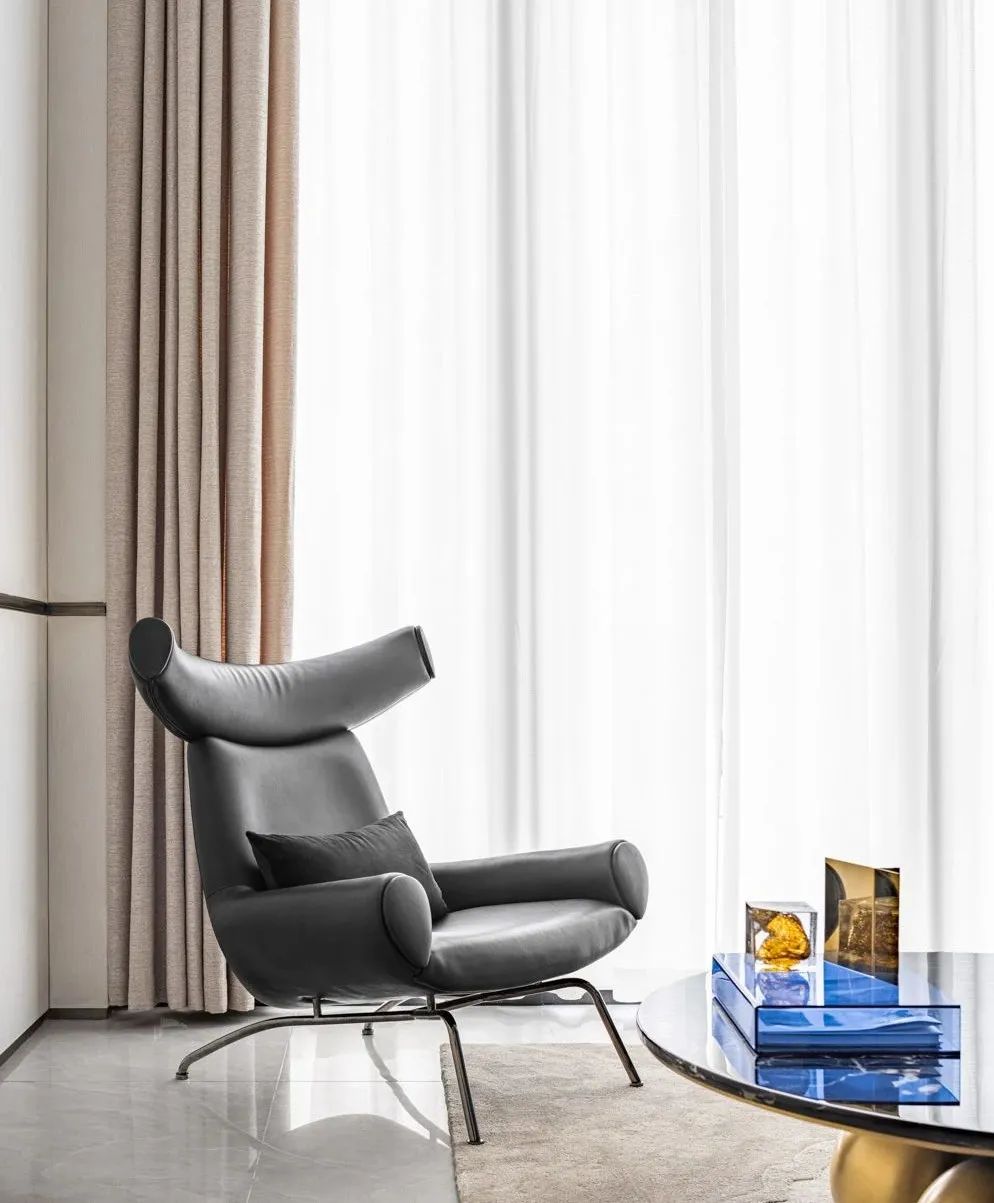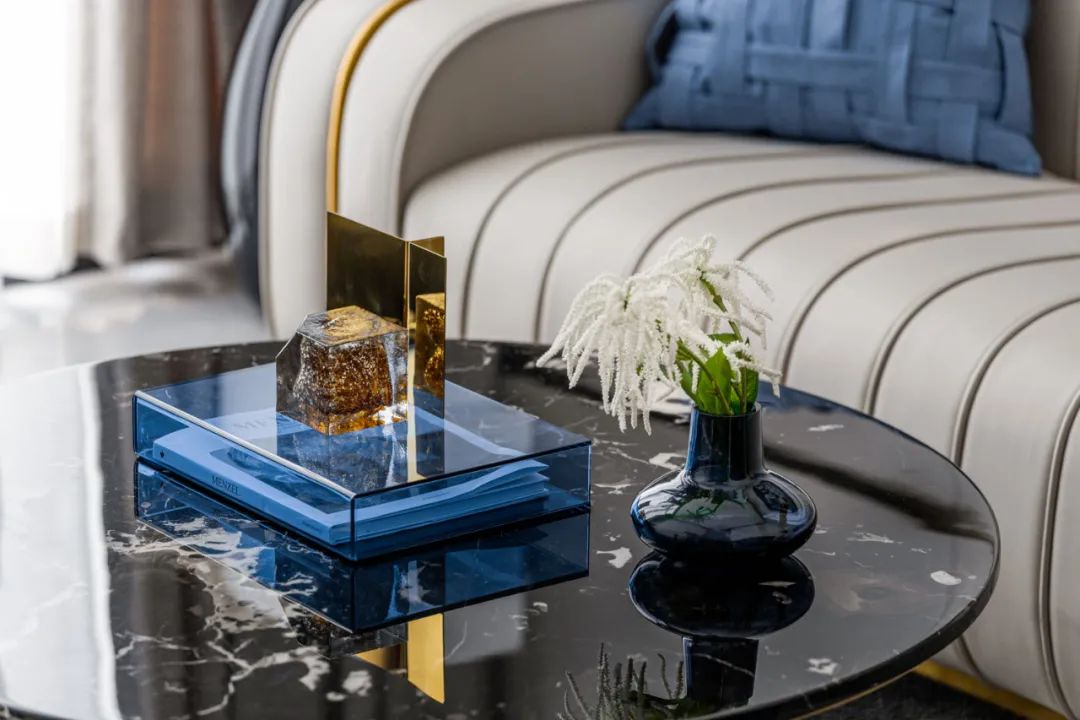 PROJECT
OVERVIEW
---
项目概况
项目名称:环天•悦景湖畔
项目类型:营销中心

甲方单位:眉山环天发展有限公司
硬装设计:ABD琥珀设计
项目摄影:LSSP罗生制片
项目面积:650m²
竣工时间:2021年5月

项目地址:四川省眉山天府新区环湖东路1号
---
岁 月 沉 淀 · 精 髓 凝 聚
追 求 完 美 · 铸 造 品 牌
每一次的用心,每一次的创新,琥珀一直与你同在
With each heart, each innovation, Amber is always with you

---
成都总部
Chengdu headquarters
成都市高新区仁美大源印象商业2栋2-3楼
2-3F, Building 2, Renmei Dayuan Impression Commercial, Gaoxin District, Chengdu
西安分公司
Xi'an Branch
西安市CROSS万象汇首东置业大厦15A02
15A02, Shoudong Real Estate Building, CROSS Wanxiang Hui, Xi'an
T: 028-82889055
E: contact@abdamber.com
U: www.abdamber.com