始于教育 兴于教育 立于教育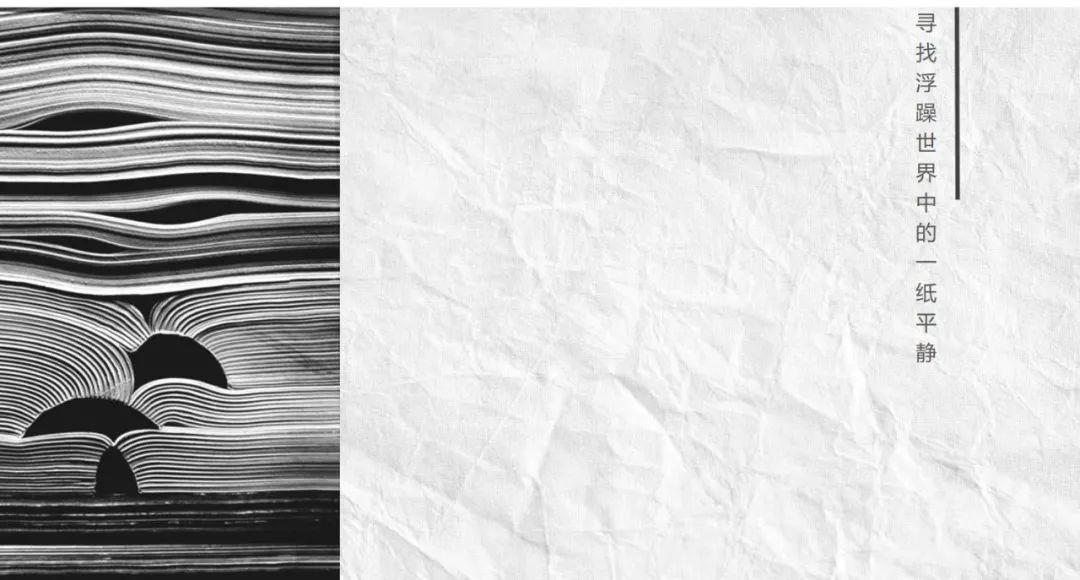 中式建筑外观结合灯影交错,方正得体,既体现了新鸥鹏的书香学府,又兼具现代感,可剖解为当代与传统的融汇,诠释诗意成趣的整体调性。本案融入传统文化,以现代主义的设计格调呈现传统书院式的视觉感受,演绎了传统与现代审美的完美交融,一展轻奢的现代书院风韵。
The Chinese architectural appearance combined with the interplay of lights and shadows, square and decent, reflects the bookish academy of New Open, but also has a modern sense, which can be dissected as the convergence of contemporary and traditional, interpreting the overall tone of poetry into interest. The case integrates traditional culture, presenting the visual feeling of traditional academy style with modernist design style, interpreting the perfect blend of traditional and modern aesthetics, and displaying the modern academy style of light luxury.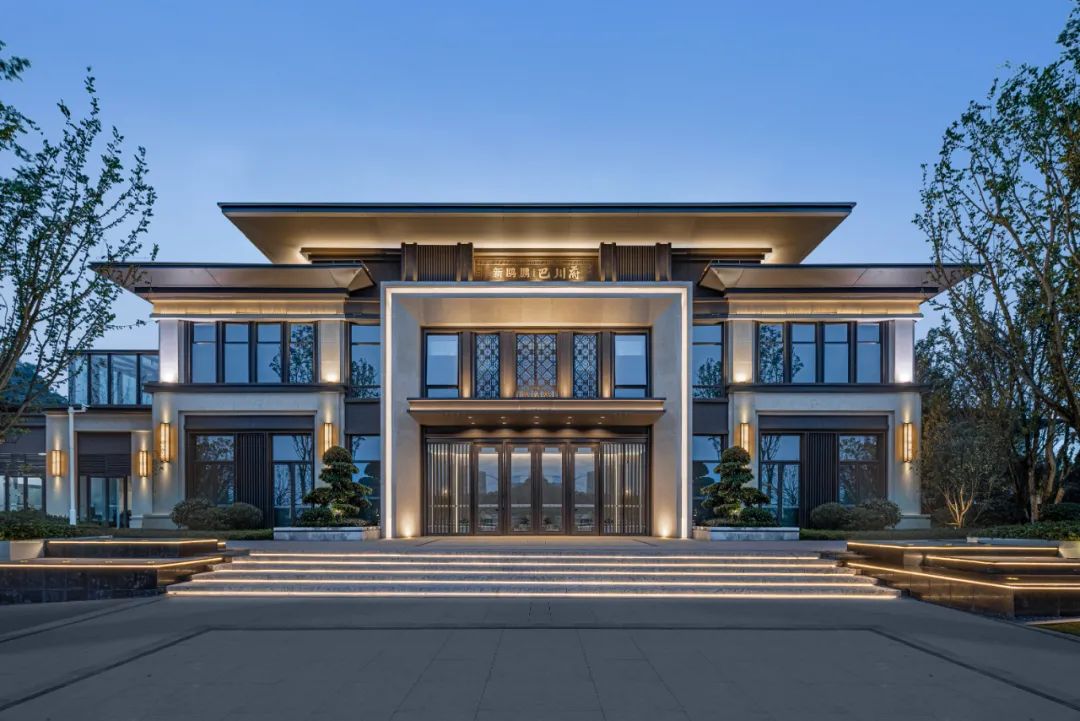 GENTLE
AND ELEGANT
---
温润雅致
步入接待大厅,规整的布局、大块面的构形,配合接待台的艺术摆件,奠定了静谧的气氛感及场景感。雅致的木质墙饰面搭配大面积山水纹石材墙面,塑造出温润雅致的空间基调。
Entering the reception hall, the regular layout and large block shape, together with the artistic ornaments on the reception desk, lay a sense of quiet atmosphere and scene. Elegant wooden wall finishes with large landscape pattern stone walls create a warm and elegant space tone.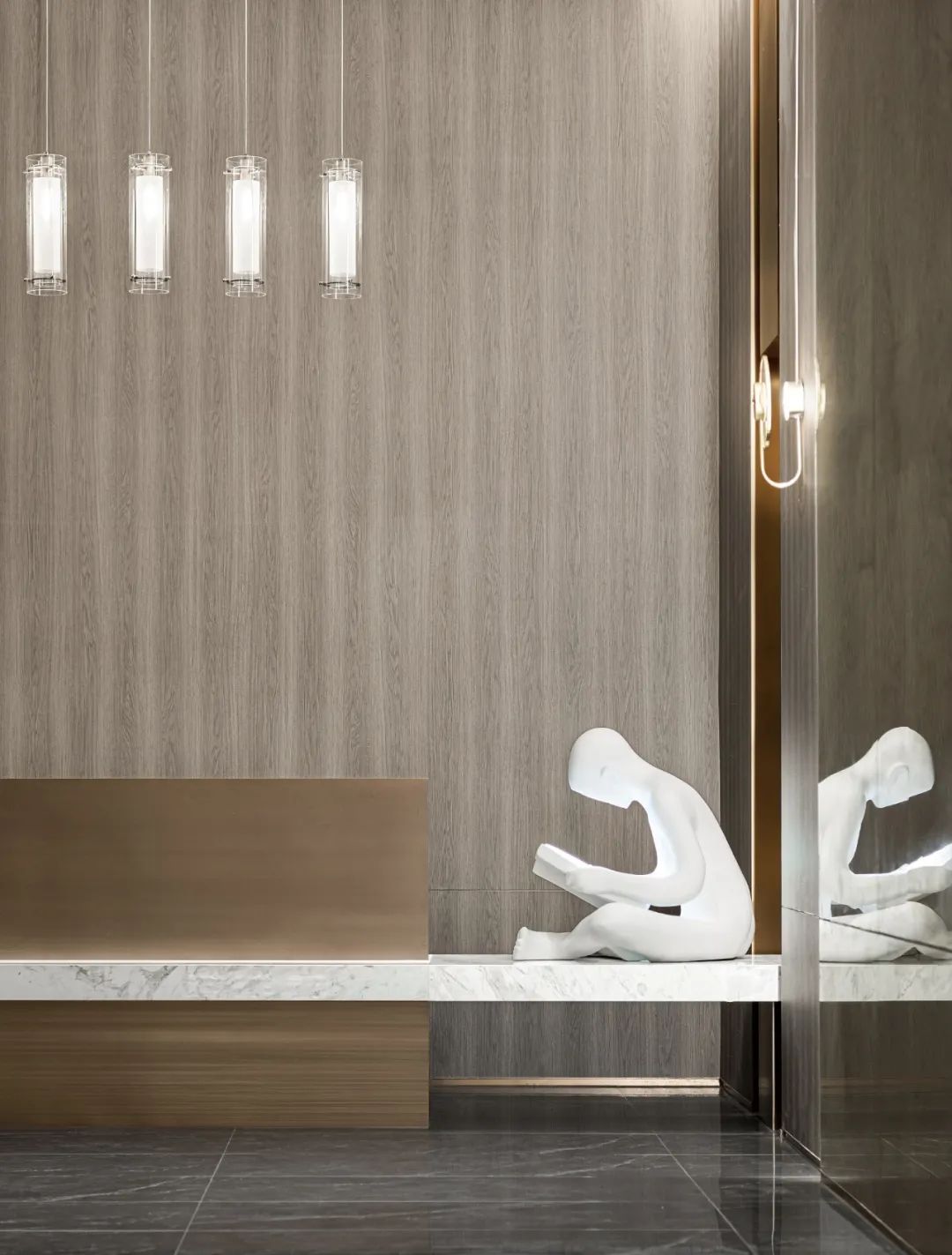 进入品牌展示区明亮而充满书香气的空间呈现在眼前。设计师将翻动中的书籍形态进行捕捉、抽象,化作柔美且有力量感的艺术吊顶装置,自由交错地穿插,展现出艺术处理转化下的凝固艺术美。
The bright and book-filled space of the brand display area is presented in front of you. The designer captures and abstracts the forms of books in motion, turning them into soft and powerful art ceiling installations, interspersed freely, showing the frozen art beauty under the transformation of artistic treatment.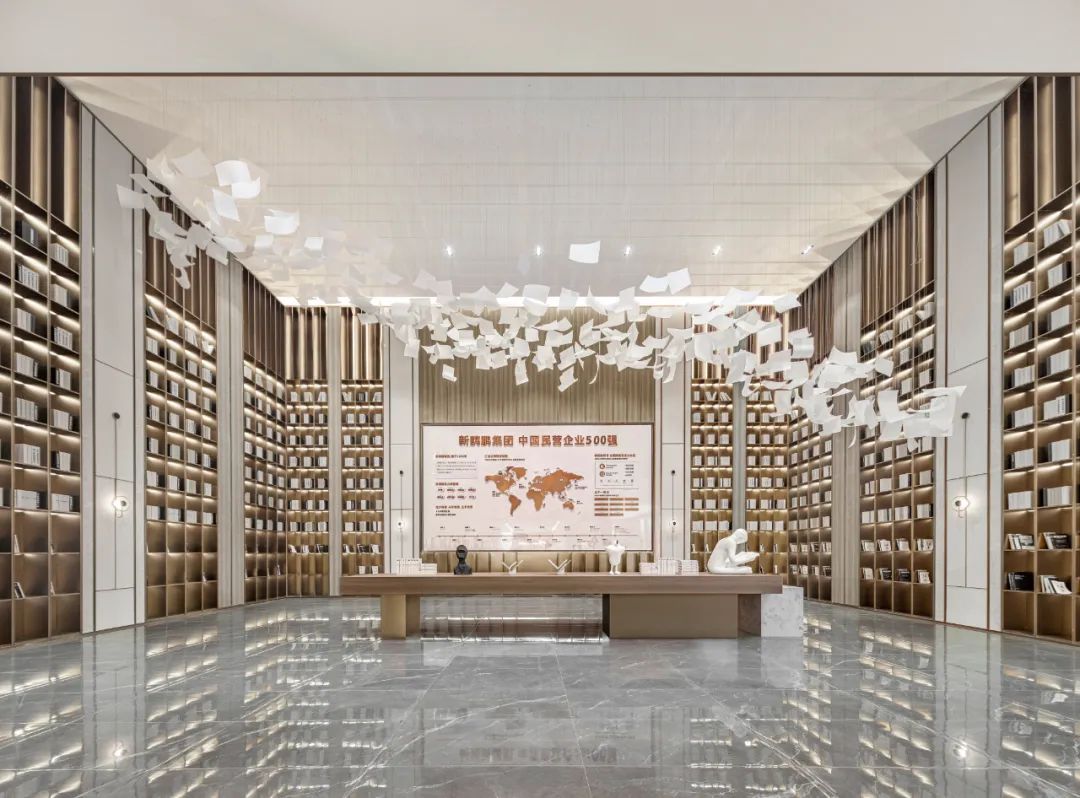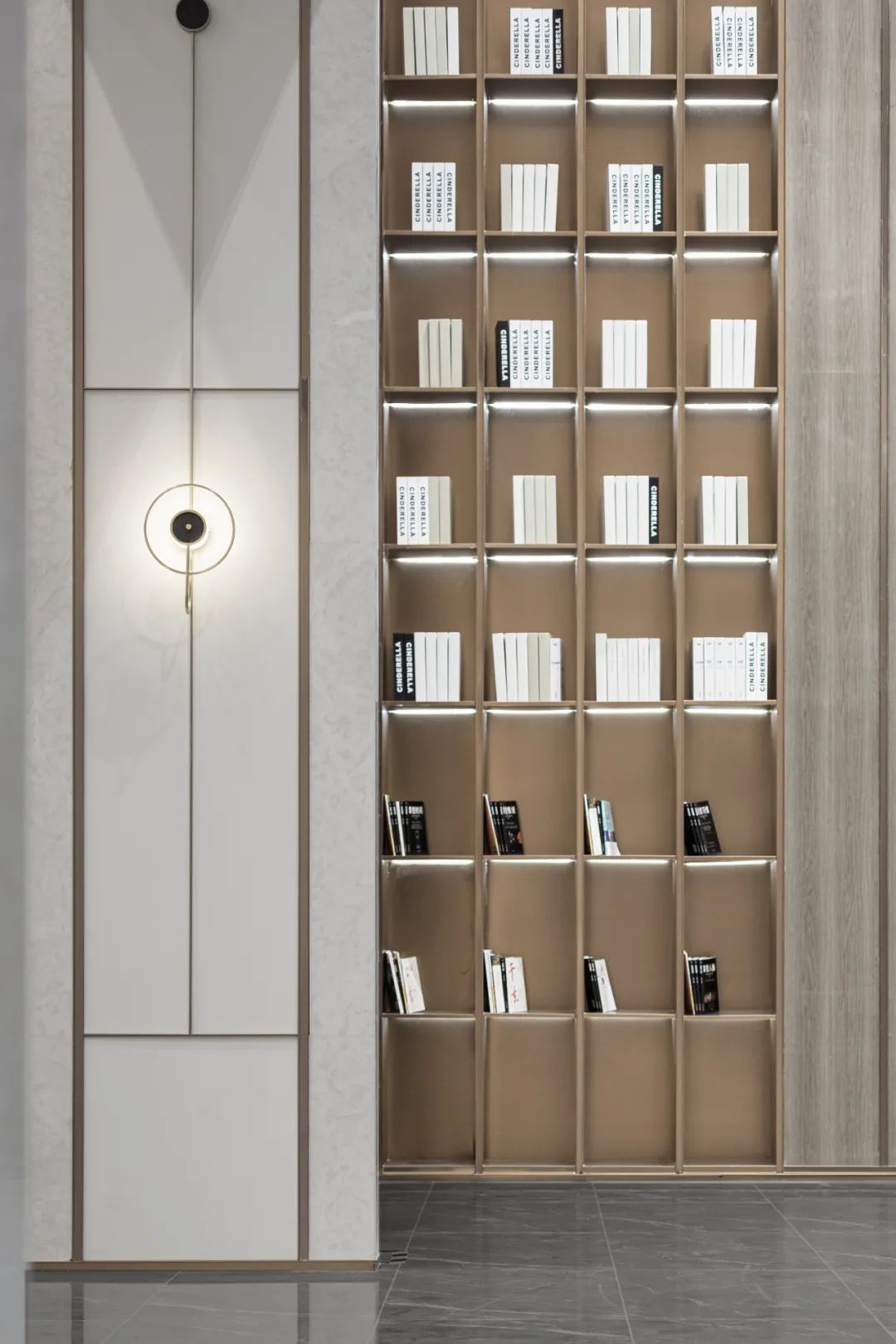 使用古铜色金属制成的满墙书柜凸显新鸥鹏品牌对待教育的文化底蕴,展示台上方的艺术装置颇有几分平步青云,大鹏展翅之韵味。
The wall of bookcases made of bronze metal highlights the cultural heritage of the New Gupeng brand towards education, and the art installation above the showcase is quite a bit of the rhythm of the flattening of the clouds and the spreading of the wings of the roc.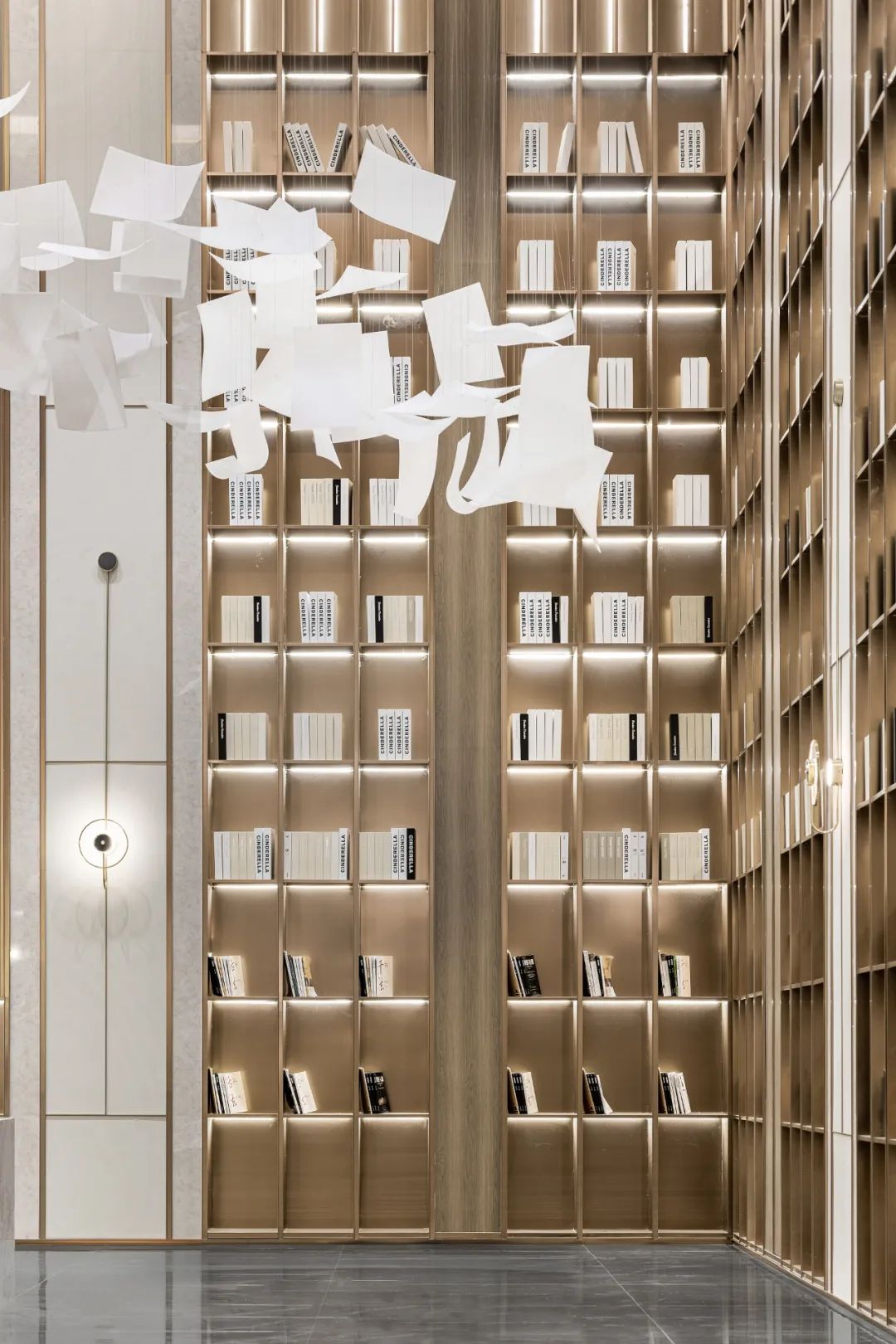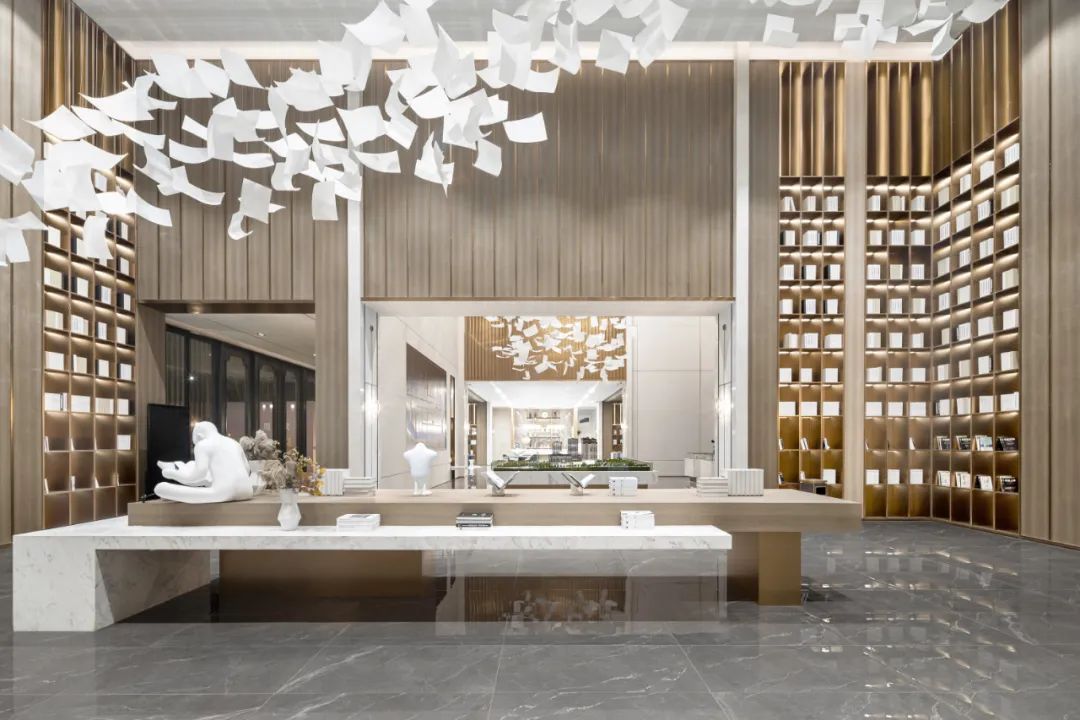 深灰色石材地板在整个空间内的将不同的功能区贯穿,再通过空间动线和元素延伸的巧妙设计,沙盘区和品牌展示区空间整体感受得以整体延续。以现代简约手法以及传统元素重塑古典书香韵味,整齐序列的逻辑表达的是沉静雅致的思考。
Dark gray stone flooring in the entire space of the different functional areas throughout, and then through the clever design of spatial movement and extension of elements, the overall feeling of the sandbox area and brand display area space can be continued as a whole. The modern minimalist approach and traditional elements recreate the classical bookish flavor, and the logic of neat sequence expresses the quiet and elegant thinking.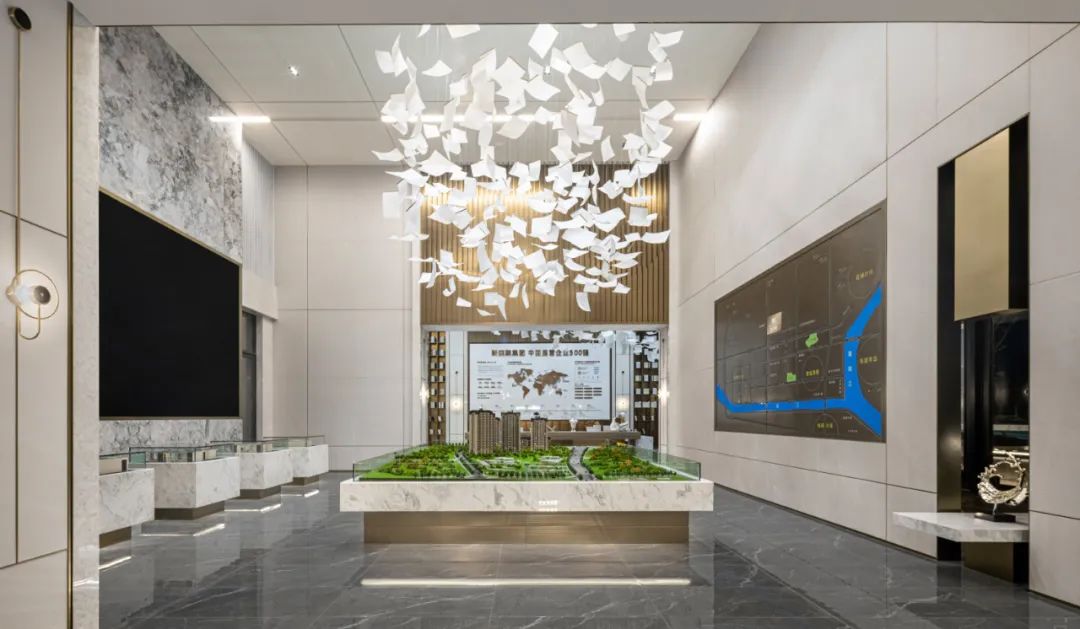 PLEASURE FOR
THE SOUL
---
怡情悦性
在洽谈区,参观后的相关感受都可以在这里交流,有别于城市中车水马龙、忙碌喧嚣,巴川府的洽谈区是一个别样的天地,这里悠闲、舒适,将你淹没在温润的音乐中,肆意的放纵午后慵懒的自己。
In the negotiation area, all the relevant feelings after the visit can be exchanged here. Different from the traffic and busy hustle and bustle in the city, the negotiation area of Ba Chuan House is a different world, where it is leisurely and comfortable, submerging you in the warm music and indulging your lazy self in the afternoon with reckless abandon.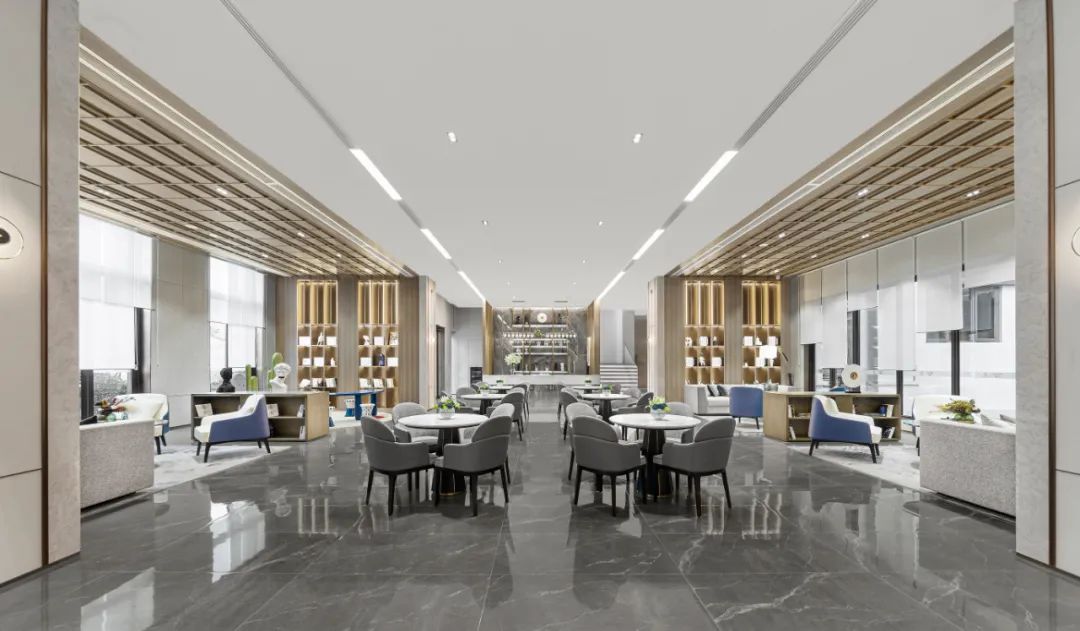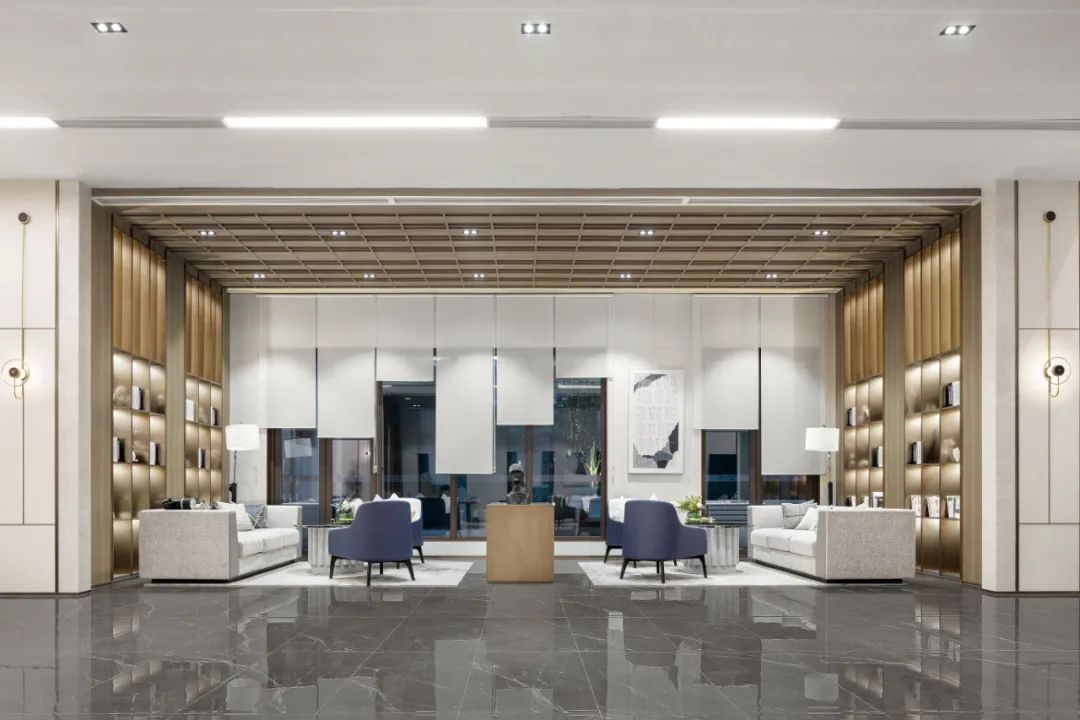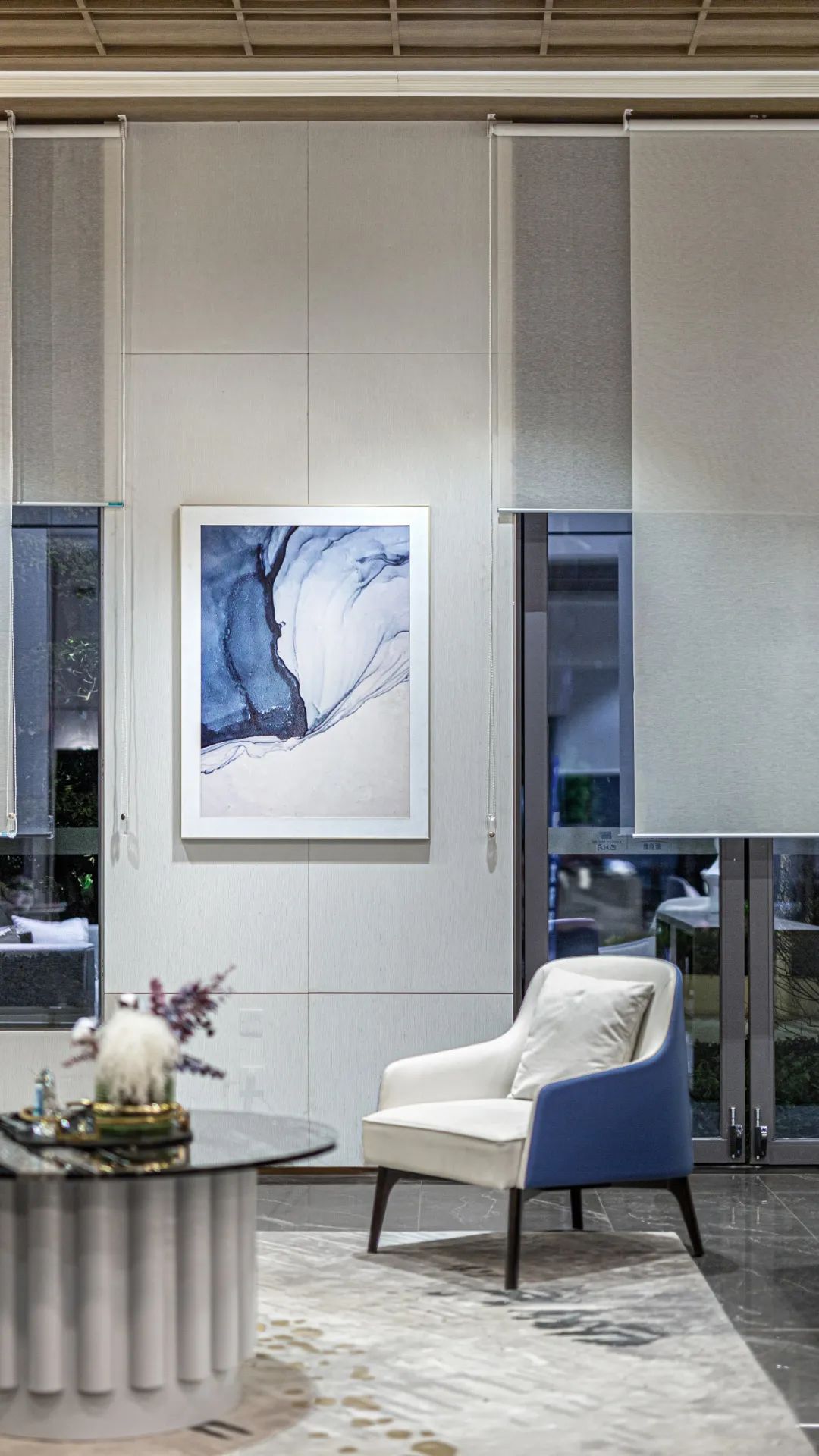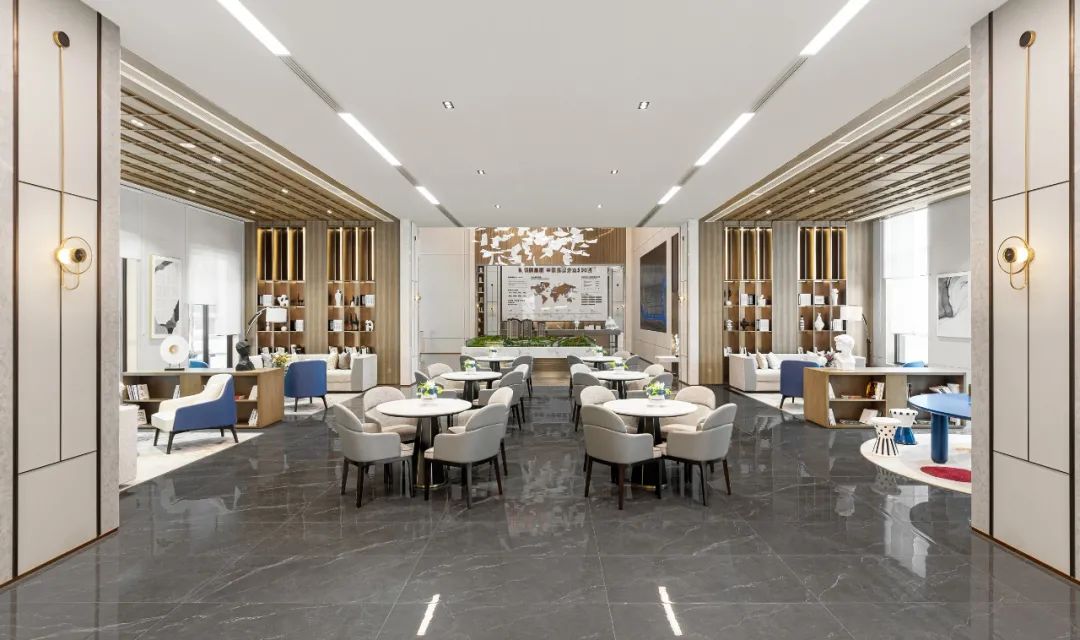 卡座区旁我们也专门为儿童阅读开辟了一片新的区域,协调统一的空间的布局以及各类新鲜事物不断激发孩子们探索的欲望。
A new area has been created next to the seating area for children's reading. The layout of the harmonized space and the various new things continue to stimulate children's desire to explore.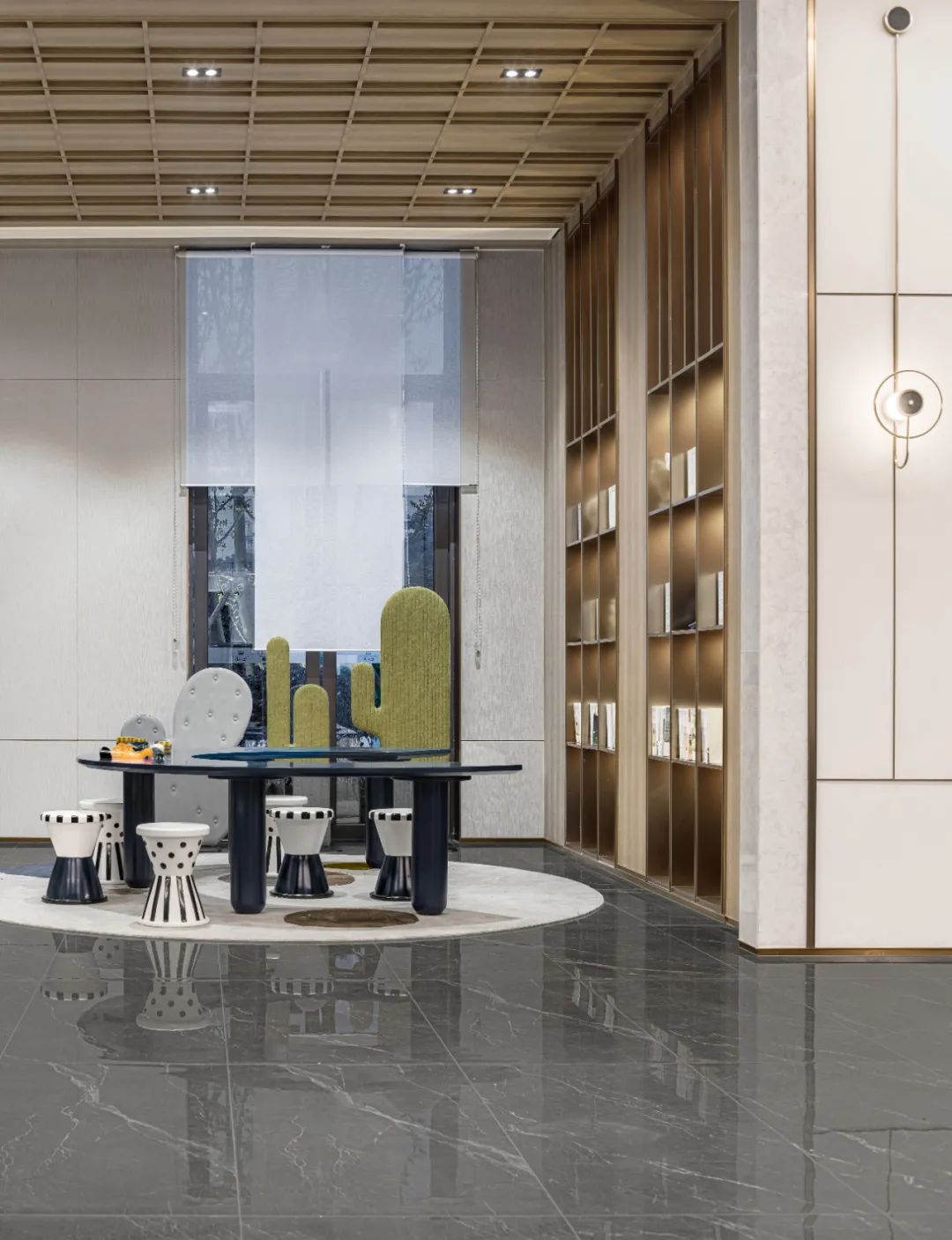 水吧区紧邻洽谈区,精巧的布局使得空间与空间之间有着相互区分而又统一整体的视觉感受。同时把握好各区域的亲密与疏离,让参与者既能畅享奢阔又可独辟一隅静谧。
The water bar area is adjacent to the negotiation area, and the delicate layout makes the space and space have the visual feeling of mutual distinction but unified as a whole. At the same time, the intimacy and detachment of each area are well grasped, so that participants can enjoy the luxury and quietness of a separate area.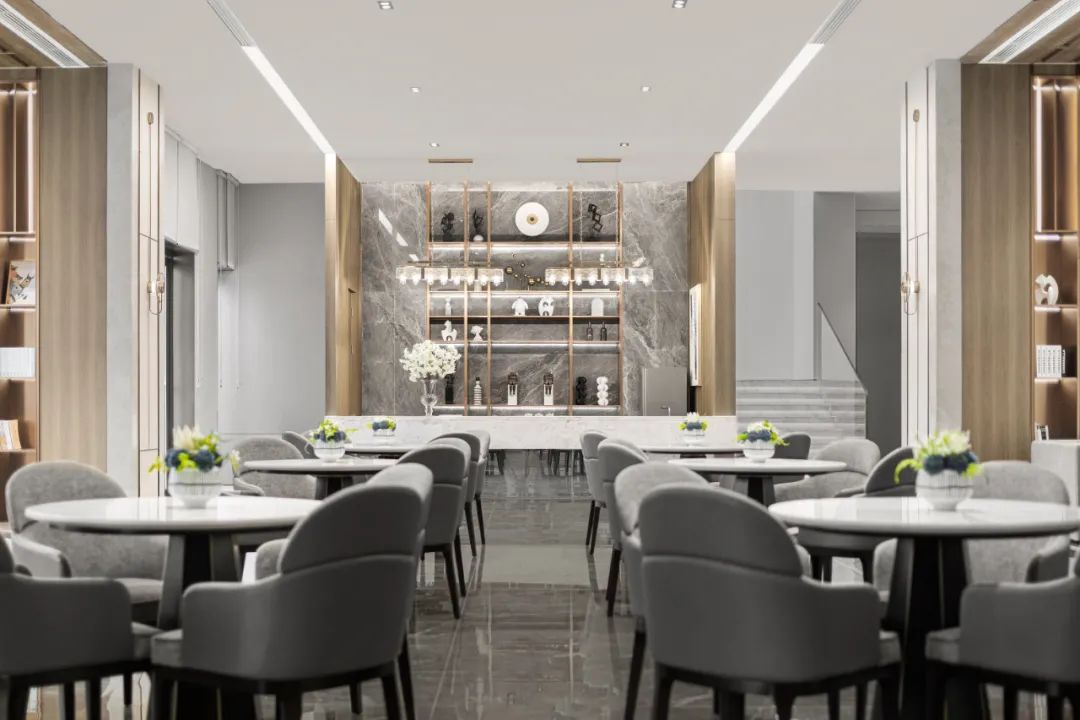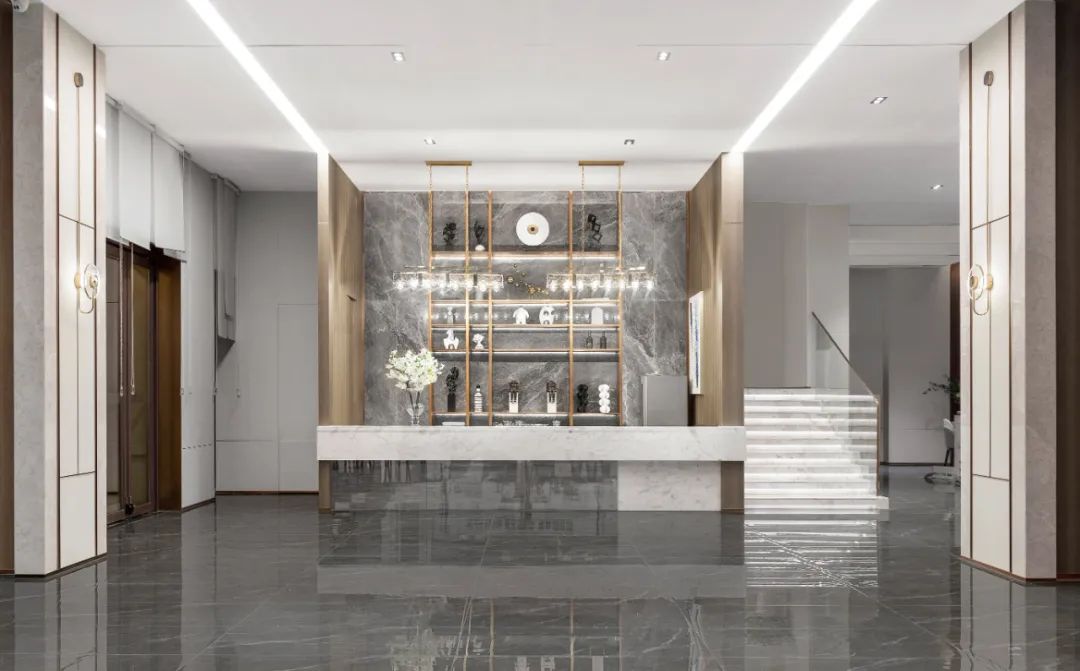 PROJECT

OVERVIEW
---
项目概况
项目名称:新鸥鹏巴川府
项目类型:营销中心

甲方单位:新鸥鹏集团
硬装设计:ABD琥珀设计
项目摄影:LSSP罗生制片
项目面积:877.8m²
设计时间:2021年2月
竣工时间:2021年7月

项目地址:重庆市合川区
岁 月 沉 淀 · 精 髓 凝 聚
追 求 完 美 · 铸 造 品 牌
每一次的用心,每一次的创新,琥珀一直与你同在
With each heart, each innovation, Amber is always with you

---
成都总部
Chengdu headquarters
成都市高新区仁美大源印象商业2栋2-3楼
2-3F, Building 2, Renmei Dayuan Impression Commercial, Gaoxin District, Chengdu
西安分公司
Xi'an Branch
西安市CROSS万象汇首东置业大厦15A02
15A02, Shoudong Real Estate Building, CROSS Wanxiang Hui, Xi'an
T: 028-82889055
E: contact@abdamber.com
U: www.abdamber.com